Chris, his dad and a couple other guys spent this past weekend in Austin at the Formula 1 races, so we invited Grandma to come spend Halloween weekend with us. She got here before noon on Friday, so we surprised Clara for lunch. Once Clara got home, we got busy carving our pumpkin. The kids couldn't agree on a face and I wasn't in the mood to carve more than one, so they compromised. One round eye, one triangle eye, Clara smile on the top and pointy teeth on the bottom.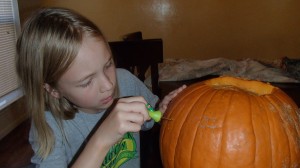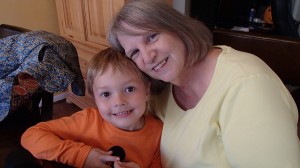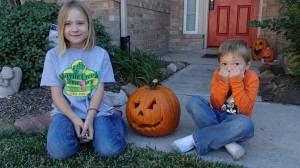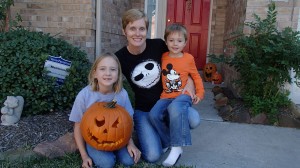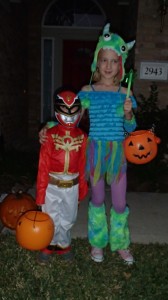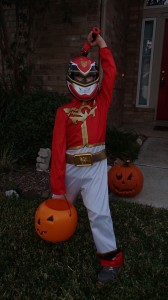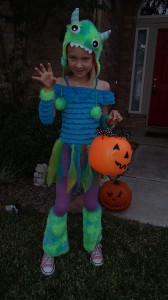 Clara decided that Grandma needed a costume too, so she provided her with these Minnie Mouse ears for trick or treating. Our neighborhood was touch and go and we would pass six or seven houses in a row with their lights off before finally coming to a house to trick or treat at. At one house, there was a couple passing out candy in their driveway. Standing next to them was what looked like two grim reaper statues. As Clara inched near them, one of them moved toward her. She screamed and ran back to me at the sidewalk. We told her it was just a costume and she surprised me and walked back up for her candy. She kept a close eye on the other one though. Robert wanted nothing to do with that house.
They were timid and scared at any house with any decorations, no matter if they were scary or cutesy. I told them I wasn't going to go up and ring doorbells for them, so we didn't spend too long out and about. Their feet hurt and their candy was heavy and Clara's jack-o-lantern finally broke and Robert just about wet himself at the back of the neighborhood and it was scary and the complaints went on and on. It wasn't long before we had allllll had our fill of the festivities and headed home to check out their loot.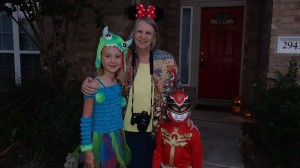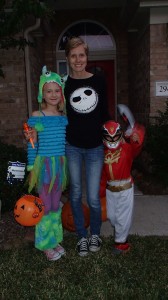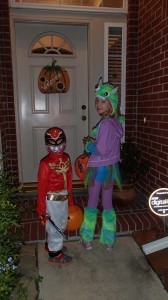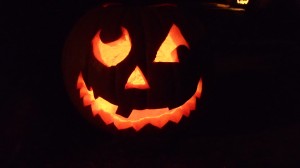 We ate candy and watched The Nightmare Before Christmas when we got home. We spent a lazy day at home on Saturday with Grandma and just played and watched t.v. And ate more candy of course

She joined us for church and lunch on Sunday before heading home. She was ready to get away from their insanity by this point. So was I actually. I'm about to chunk the rest of the candy and start their detox because they're driving me batty.