Robert had his school Thanksgiving feast on Thursday. All of the classes met in a large room and feasted together. The kids walked in single file with their class and most of them had on cute, handmade indian headdresses with their names on them or turkeys that they colored. Some had matching t-shirts that their teachers had monogrammed with their initials or one class had added beads to fringe on the bottoms of their brown shirts to look indian-like. Robert's teachers went all out and ran to Hobby Lobby and got them matching foam turkey visors.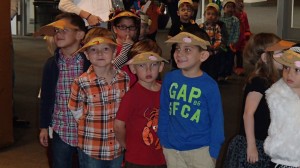 During their feast, they showed a slideshow of pictures from the year along with video clips of the older kids saying what they were thankful for. Almost every one said they were thankful for their mommy, daddy, family, grandparents, house, food, etc. Robert said, "I'm thankful for cars." Proud mommy moment.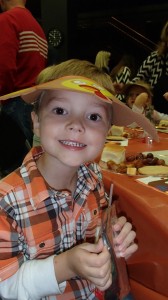 They each brought home a placemat to decorate with things they are thankful for. They could draw pictures, write words or use photos. All of the placemats at Robert's table had tons of pictures or were filled with family names. I had him draw what he was thankful for. I got him all set up with crayons and I came back a few minutes later to his placemat filled with a big 'ol picture of Lightning McQueen. It's hard to see, but it has his number 95, blue eyes up top and a lightning bolt. I asked him if he wanted to had anything else….. like……maybe…..Mommy? Ooooor Daddy? Nope and nope. He said he was only thankful for cars. Oh boy. He's gotten an earful from me about being thankful this week.