Robert turned five yesterday. We're not having birthday parties with friends for the kids this year so Robert was supposed to have a family fun day. Well, his birthday didn't quite go as planned. His big day seems to get derailed a lot. But no worries. We made the best of it.
The plan was to go to the donut shop, then to early service, a movie right after church, slot car racing, and then dinner at the mongolian restaurant he likes. He wanted to see his friend (the owner) and I think he was hoping to hit the gong. Robert and I have both been fighting colds the last few days and he woke coughing pretty bad yesterday. He felt fine, but we didn't want to take him to church with as bad as his cough was.
Chris went to the donut shop and got donuts and we watched the last F1 race of the season and Robert opened his presents.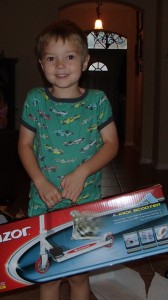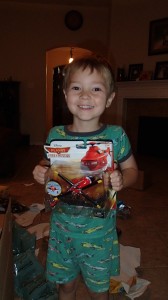 We got a call from Dan around 8:00 and we handed the phone straight to Robert because we assumed they were calling to wish him a Happy Birthday. Turns out Linda had fallen and hit her head. There was lots of blood and she was taken by ambulance to the hospital. There was some confusion on our end as to what was going on, so Chris decided to make the drive. Dan was sick and wasn't able to go up to the hospital to be with her. Linda is fine; she got seven staples in her head and some tests run and Chris got there just in time to drive her home and get her all set up with what she needed before heading back home.
So while Chris was making his little trip, I decided to go ahead and take the kids to see Big Hero 6. I gave Robert something for his cough before we left, but unfortunately it didn't help him much. I felt so bad for our fellow movie-goers. He coughed the entire time. He had several coughing fits and they seemed to always come during a quiet scene. At one point he even coughed until he threw up. Thankfully I had been ready for it and I had napkins to catch it. Didn't even make a mess.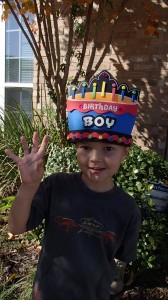 After that public cough-fest, I decided we probably should forgo slot car racing. When I suggested we go another time when Daddy could come, the birthday boy agreed. He even agreed that he needed a nap. You know he wasn't feeling good if he agreed to that. I told him we'd go get him a little something at Toys R Us since his birthday wasn't going according to plan and he was being so good about it. His sister, on the other hand, was very upset by the change in plans and had to have a little talking to. We didn't get him, but look at this ninja turtle! That's just crazy!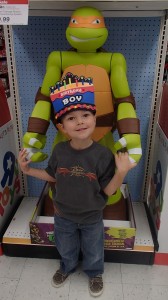 By the time we got into the (very long) line to checkout, I ended up holding Robert and he was still coughing. When they opened a new line, the nice older gentleman behind me made sure to jump in that line in front of the mom holding a coughing child wearing a birthday boy crown. Sigh. I really wish people could look beyond themselves sometimes.
After placing all of Robert's new toys on his headboard shelf, I had him lay down for a nap. A few minutes in, Clara came to tell me he had another coughing fit and had thrown up on his bed. I got him all set up on the couch with a puke bowl and a waterproof mat to protect the couch and then let him watch Cars 2. My sweet boy told me all day long through coughs and sniffles, even after puking in bed, that this was the "Best Birthday Ever!" I felt so bad for him

I guess there's just something magical about your special day and it takes a lot to ruin it. That's obviously the case for this sweet boy. He can be such a little stinker sometimes, but I gotta say, I was really proud of how he handled his disappointment yesterday.
When Daddy got home mid-afternoon, we sang Happy Birthday and had cupcakes. These pictures are terrible; the sun was shining in though a high window. I should have just had him switch places to a less sunny spot, but my birthday gusto was all fizzled out by now, so I didn't make a fuss.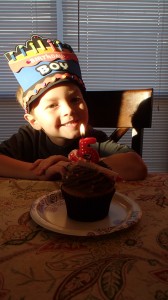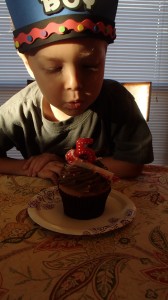 It wasn't a picture perfect affair by any stretch of the imagination, but a happy day to celebrate our special guy nonetheless.