We had our annual Thanksgiving camping trip at Mother Neff State Park this year. Mother Neff is the oldest state park in Texas. It's also only a few minutes away from Dan, Linda and now Margaret, so it was a perfect spot for us. Jason and his dad also joined us this year. This was Robert sitting by the campfire on the first night. We got there mid-afternoon on Wednesday and the kids got right down to business making friends with the neighbors and playing until they crashed.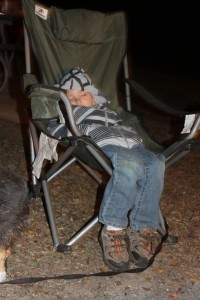 When we finally got settled into the camper and turned on the heat for the night, Clara decided that teeth brushing by the heater felt pretty nice.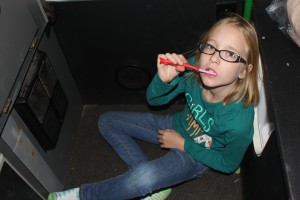 The next day, we headed into town for a lovely Thanksgiving meal prepared entirely by Linda. Who just got staples in her head four days earlier. And who insisted that we keep to the plan instead of cooking up something or other over the fire. Dan came and got me and Clara a little early so we could help with preparations, but we weren't much help since Linda had it all under control. We went and picked up Nanny from her apartment and then got back to the house a little before the boys showed up. We chatted and ate and were all quite thankful for all of Linda's hard work.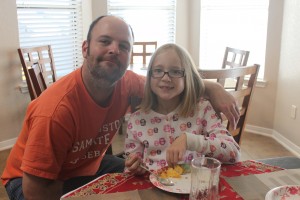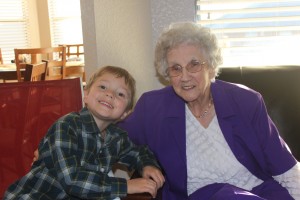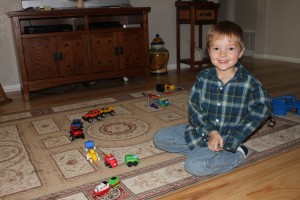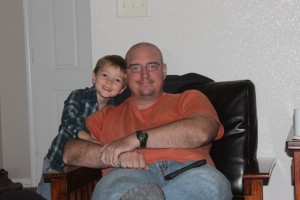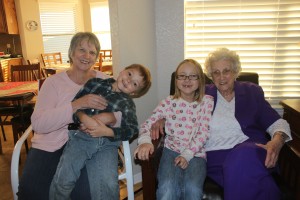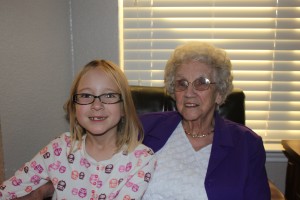 The mornings were in the 30's, so Zef got a nice warm spot to sit and wait for the sun to warm everything up.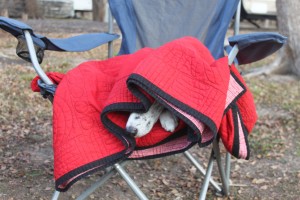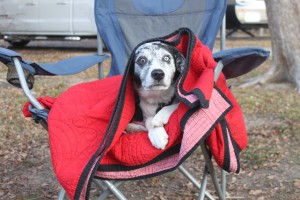 We hiked one of the trails on Friday. It led to this cave that was used as shelter by the Native Americans. These trails were probably some of my favorite so far. There were plenty of trees and lots of elevation changes and things to go see to make things interesting.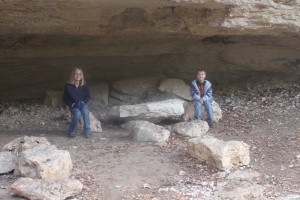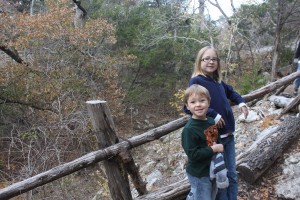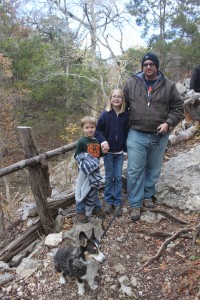 We kept on the trail and went to the top of the rock tower.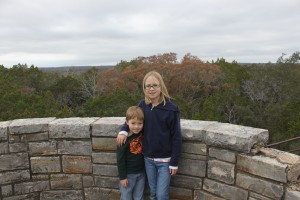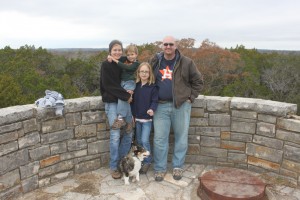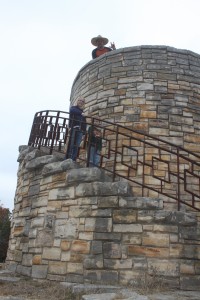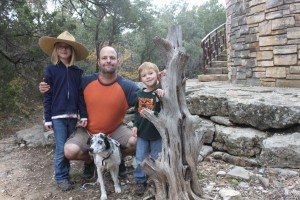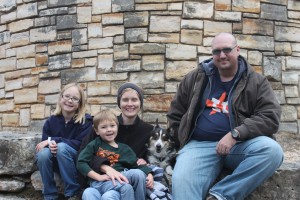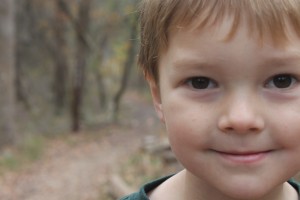 The hike was a bit much for Max, so Jason and I took turns carrying him most of the way back to the car. He was very appreciative.
After lunch, Dan and Linda came out to the campsite and we had a party for the birthday boys and girl. As I handed JDog a Birthday Boy hat, he tried to turn it away thinking it was just a party hat. I informed him that all the birthday boys and girls had one. He was quite surprised to learn that he was also a guest of honor at the celebration. Hehehe, we got him good. That's the second surprise party we've pulled off for him. The other one was easy though; it was four months early

The kids both knew and I can't believe they were able to keep it a secret from him.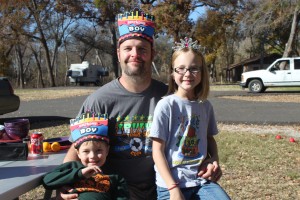 I made a little scavenger hunt for the three of them and JDog got into the spirit and joined in the search for clues.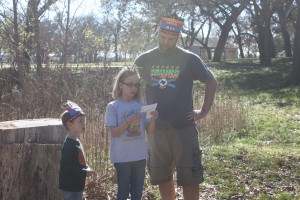 Here he is getting stuck on the last clue. Get it. Ha!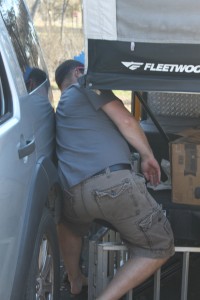 Then we played a little pin the tail on the donkey and opened presents. The kids got gifts from Grandma and Grandpa and JDog got a little something too. You like my centerpiece? The wind picked up so we took care of that with a little duct tape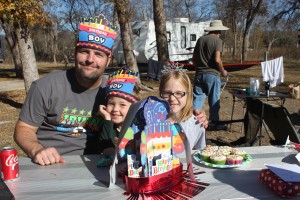 I brought cupcake mix and had JDog bake them in the dutch oven. I forgot candles though, so they had to blow out pretend candles when we sung "Happy Birthday" to them.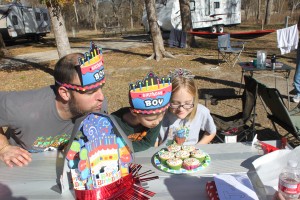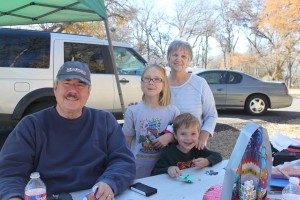 Saturday was another pretty big day because we took off this mangled, rapidly disintegrating training wheel (and it's partner).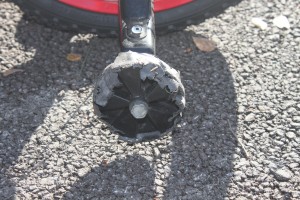 And now we have a (mostly) official bike rider. He was doing pretty well out at the campsite, but he won't ride on our street since it's slanted. We're going to have to take him to practice in a parking lot so we can get back to riding with Clara to school. I don't want him riding to school until he's comfortable starting and stopping.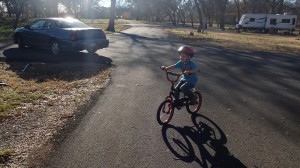 I took the kids on another hike on Saturday, this time to the Wash Pond and then they played on the playground. Chris tripped over Max's leash the first night and fell hard on his knee, so it was hurting him most of the weekend. The scar where his stitches were broke open and started bleeding

It's doing better now thank goodness.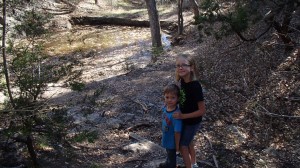 Chris and JDog got busy with their cornbread war. Chris loves sweet cornbread and likes to combine one box of Jiffy cornbread mix and one box of Jiffy white cake mix. Well, they were out of Jiffy cake mix, so he picked up a regular brand and just eyeballed it when deciding how much to use. Yeah, we basically had corn flavored cake with our dinner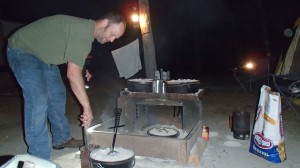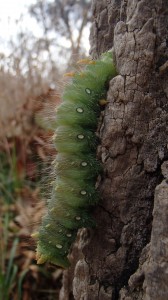 This park had a Junior Ranger program that the kids could participate in. They gave the kids a worksheet with all kinds of questions about the park, the nature within the park and it's history. We had to go around and read all of the plaques and signs in the park to answer them. She had to sketch an animal, so she drew this caterpillar that Jason's dad found and then picked up trash to help keep the park clean. As we checked out, we took the paper to park headquarters and they printed out a certificate for her (and Robert since he joined us everywhere but can't write and really I just lost his paper) and had them raise their right hands and recite a pledge stating they would take care of nature and the park and would encourage their friends and family to do the same. Then they got a little Jr. Ranger pin. It was all very official. And very cute. And I didn't have my camera on me. I figured they were just going to hand them a pin and say, "Good job."
We got back home around 3:00 on Sunday. The kids wanted to put up the Christmas tree, so I'm a sucker and set it up and pulled out the boxes of decorations. Camping and Christmas collided in a perfect storm in my house that evening. It's a week and a half later and I still don't think the house has completely recovered.