Clara wanted to go back to our old church and see friends for her birthday. We did that last year since her birthday was on Sunday. This year her birthday was on Monday, but she was bound and determined to take full advantage of the extended birthday celebration thing we had going on.
We got to church a little early. I may have misjudged the amount of time it would take to get there. So we stopped into our old Kolache Factory hoping our friends would be there. Rosie and Mimi were both working and recognized us right away. They were so happy to see us. And then Mimi surprised us when she asked, "Your usual?" I asked her if she was serious and sure enough, she rattled off our whole order! After more than a year and a half. Impressive. We told Clara no cinnamon roll because we had actually already eaten dessert and were just going to get something small. Well, right as she was finishing up her kolache, Rosie came over with a gooey cinnamon roll for the birthday girl. She looked over at us with a desperate face and we of course told her it was ok to eat.
After church, we had lunch with the DeCarlos. The kids are all getting so big.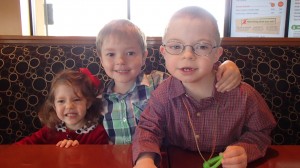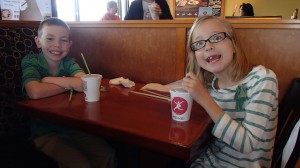 Clara was on a roll with getting everything she was asking for because birthday, so she asked to go to Tutti Frutti next door.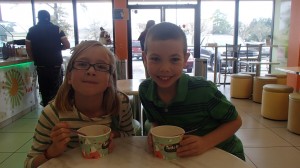 Ok, I thought Robert doing tae kwon do was just about the cutest thing ever, but I was wrong. That would be a two year old showing me all her moves and "hi-yas"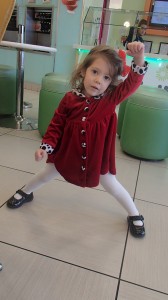 Monday finally arrived and we had some surprises in store for the birthday girl. We let her open her gifts before school. Bia and Pawpaw sent her Samantha's holiday dress and some new choose your own adventure American Girl books that were recently released. Samantha has been retired for several years and was just reintroduced a few months ago, so Clara was happy to get a new dress for her.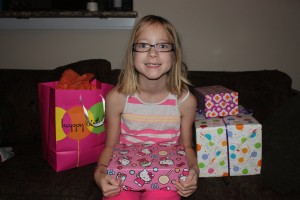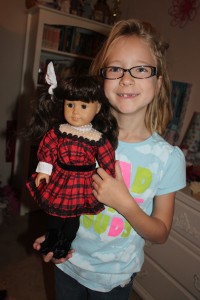 Then Chris said he was going to drive her to school. She was really confused when he parked and got out of the car with her. We had arranged for him to be a Watch D.O.G. on her birthday. They had their picture taken and posted on a bulletin board, were on the morning video announcements and Chris spent some time in her class, including lunch and recess. She also got to share cupcakes with her classmates.
The other big surprise was a visit from Grandma and Grandpa. This was the first birthday they've been able to come celebrate with her, so it was an extra special treat. She wanted to go to Rainforest Cafe because she's wanted their volcano dessert from the first time she spied one when she was a preschooler. I didn't realize Robert had gotten his greasy chip paws all over the lens of my camera, so a few of these pictures are blurry until I figured out there was a problem.
But first, one last gift before dinner. A salon chair. Notice a theme here

I've tried to hold off on doll accessories the last few years, but I finally decided she would love some fun accessories since dolls are about the only thing she still plays with. It's sad to think that we've only got this year and maybe next to to give her toys

It won't be long until all she wants is clothes, electronics and other big kid stuff. It's going by way too fast; she's now halfway to adulthood.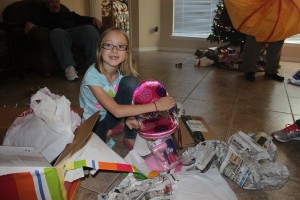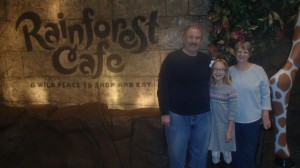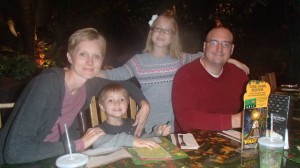 Robert was not fond of the thunderstorms, so Clara, being the awesome big sister that she is, kept coming over to help cover his ears until it passed.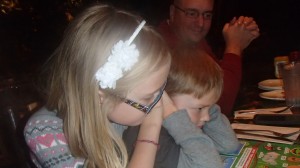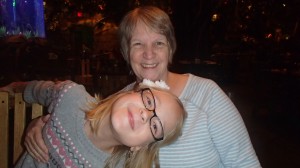 The waiters come out of the kitchen yelling, "Volcano! Volcano!" over and over as they parade the dessert to your table and then sing their rendition of "Happy Birthday" with lots of clapping. Clara joined in on the clapping, mesmerized by the sparkling dessert she's waited basically her whole life to dive into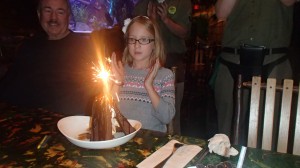 I think the volcano made up for the campfire cake mix cupcakes I threw together the week before. It didn't disappoint.