Clara had her choir tour during the school day on Tuesday. To say Clara was excited about her first choir performance would be an understatement. They got to perform at a hospital and two assisted living facilities and then have lunch at Double Dave's. Dan and Linda went to her first performance at a hospital right by our house. Linda was able to get some great photos and video. I'm glad she did because I was working at Santa's Workshop at Clara's school all week and wasn't able to attend. Santa's Workshop is a little shop the PTA sets up for the kids to choose Christmas gifts for their family. It was crazy busy! And it doesn't help that the youngest have no concept of money and cost. They'd come in with $3.00 and want to buy gifts for 10 people. Oy. It definitely stretched my patience.
Anyway, Chris went to her third performance because it was near his work. He said she was so distracted and turned the wrong direction most of the time, playing with her hat, etc. He said it was a little embarrassing how badly she was acting. Ha! Looks like Grandma and Grandpa saw a bit of that show too.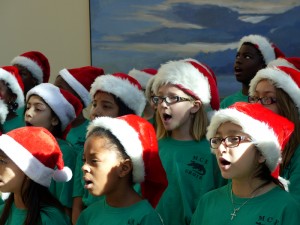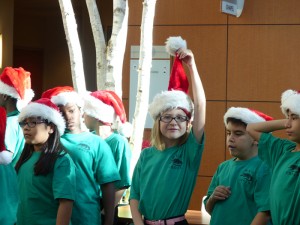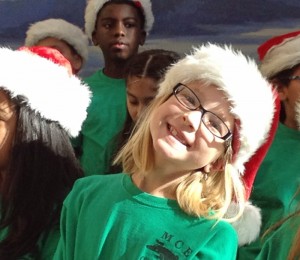 So I was helping out at Clara's school all week while Robert was at school. Thursday was Clara's school's Christmas program. I was up at the school from 9:30 am to 9:30 pm, leaving only long enough to go get Robert from school. I got Clara when school let out and she was acting a little whiney. Not too bad, just not real happy about me asking her to help out with different things. The event was only a couple of hours away and there was still a lot to do that had to wait until school let out. I had Chris come get the kids when he got off work and he was going to get them dressed and back up to the school for the program at 6:00. He got them at 5:15 and then called 15 minutes later to let me know Clara was running a fever

Here Robert was helping out on Thursday. He had pajama day at school and I didn't bother changing him. We had to move our entire Santa's Workshop from a classroom and set it up in the cafeteria. Robert got to carry part of a raffle prize.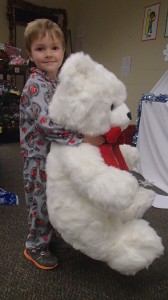 So I didn't get to see her perform with the choir or her grade. And she was supposed to play the triangle with the 3rd grade. They also didn't get to sit on Santa's lap, which was going to be the only time this year because I am not standing in line at the mall. They'll be writing letters instead. The one nice thing was that the president didn't have to come find someone to give me a break during the two and  a half hour event. Wait, that was good for her, not so much for me

It's so sad the lack of volunteers we have. We have to get high schoolers to come help and a credit union sends volunteers for us because we don't have enough parents willing to help. There were probably a couple of thousand people that came through the doors that night and a total of about 6-7 PTA volunteers. Those same 6-7 people did all the set up, volunteering at the event and clean up. So all that to say, if you have a kid in school and can, volunteer. They need you!
I got Clara in to the clinic first thing Friday. I thought maybe she had an ear infection because she winced in pain a couple of weeks ago when I tried to flush her ears. Well, the wax was too hard and completely covering her eardrum, so she couldn't tell if there was an infection. Her rapid strep test came back negative but was sent off to the lab, so we were on our way. We got the call last night that the strep test came back positive, so she started on antibiotics last night.
Robert started running a slight fever yesterday and Chris' throat started hurting last night. They both got worse overnight so both went to the clinic this morning. Both rapid tests came back negative, so I'm pretty sure we'll be getting antibiotics in two to three days when their results come back positive

Looks like Robert will be missing his Christmas program and class party this week. Clara should have been able to go back to school tomorrow after 24 hours on the antibiotic, but she's still running a fever a little over 100, so maybe by Wednesday. I'm just hoping that Chris is on the upswing before I get hit here in a day or two. I'm keeping optimistic

Hopefully this bug will be well on it's way out before Christmas.