Chris went back to work for a few hours yesterday. He wanted to go back all day, but I convinced him not to overdo it. He has a tendency to do that

He went in for his Christmas party at lunch time and came home a few hours later. His back is on fire right now from all the laying around he did, so I'm guessing he won't make it a full day today either.
This was Robert yesterday, day five of fever. His hooded frog blanket was his constant companion as he trudged from his bed to the couch each day this week. I had to confiscate it several times to run it through the wash. One of the times was because he coughed so much he threw up on it.
I have to say, Robert has proven to be the most wonderful sick patient. He didn't complain, didn't whine, didn't cry, nothing. At times I would take his temperature and it was around 103 and I couldn't believe it because he was talking or walking around or singing even. He was of course lethargic; you could tell he didn't feel good, but I was amazed at how easy he was. He continually told me thank you and reiterated how much he loved me through coughs and sniffles. He's a good kid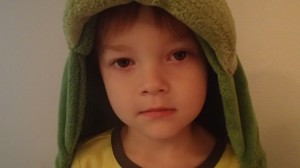 And today he finally woke fever-free and it's stayed gone so far. Yay! He went with me this morning to take Clara to school. It was the first time since Saturday morning that he's left the house. I also realized it was the first time since last Thursday night that Max had been home alone. Of course it's raining all day today so Robert can't get his pent up energy out just yet.
Today is an early release day for Clara, as well as Polar Express Day. They're having a sing-along in the gym, watching Polar Express and will have hot cocoa. Clara was terribly excited and I'm so glad she was well enough to be there for it. Today is a bit sad too though. Her friend Addison is moving out of state and leaves Christmas day. She's temporarily living in the med center right now, so today is probably the last time Clara will see her. It's always hard to say good-bye to friends.