As is usually the case, New Year's Eve rolled around and we hadn't made any plans. So kids and movies it is! We tried to trick them with the Netflix New Years countdown so we could go to sleep early, but Clara's too quick for those kind of shenanigans now. Darn. So I chilled a bottle of sparking cider (that I had in the pantry from last year when it didn't get used) and we took a few obligatory pictures sometime around midnight.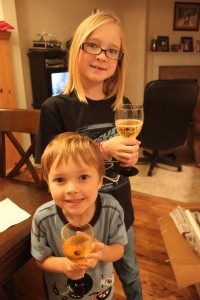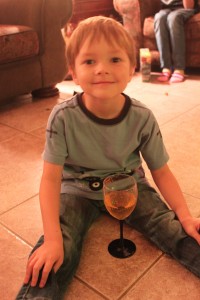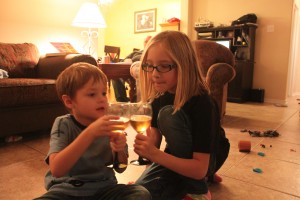 Robert's face cracks me up in the next one. They were both so excited about drinking "champagne" from fancy glasses. They both were taken aback a bit by how "spicy" it was. Clara and I just took a few sips, but Robert had no problem gulping his down after having to force down the first couple of sips. Hmmmm. Should I be worried?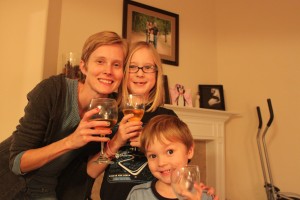 And then out of nowhere, he came down with this mystery rash the next day. I thought maybe it was an allergic reaction, but the next day it had spread to his torso and arms. I guess it could have been fifth's disease given the slapped cheeks appearance, but he didn't have a fever beforehand. Unless that's what his fever was from before Christmas, but I didn't think the rash could take 2+ weeks to appear. Who knows. It was gone with no other symptoms four or five days later.