The week before Spring Break was a busy one for us. I turned another year older and we celebrated with Italian food and I was given a complementary birthday canoli for the occasion. My birthday gift from Chris was the maroon leather jacket I'm wearing in the picture. I love it. I don't feel fashionable enough for it, but I do love it.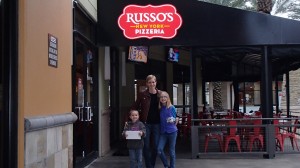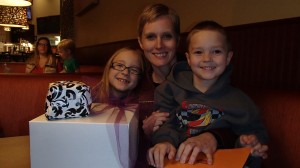 That week was literacy week at Clara's school in celebration of Dr. Suess' birthday. They had Muffins with Mom, which no one knew about until the day before (including us volunteers) and I helped with that Tuesday morning. It was complete chaos and we ran out of everything despite the less than 24 hour notice that everyone received. Their bookfair was all week, which I volunteered at during Robert's school days and on Thursday they had a storybook character parade. I made Clara a Laura Ingalls dress. It was a fairly ambitious project to undertake since I haven't sewn anything this complicated in a very long time, but I was successful! I free handed the apron because she didn't like the petticoat pattern that came with the dress. She loved it.
She came to shop at the book fair while I was working, so I had the librarian snap a quick picture of us.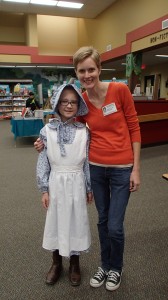 That night was Literacy Night at school. Clara wanted a picture with one of the third grade teachers who was dressed at Laura also. She was talking about biographies and had a video of Little House on the Prairie showing.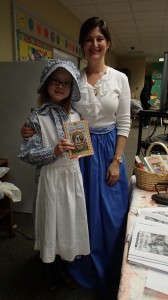 Chris had gone out of town that night for work and was coming home Friday morning. Friday was also the closing date on our new house. We had several complications leading up to closing and we still didn't have a firm closing time come Friday morning. I was so stressed out that day and drove Chris bonkers. They eventually just told us to be ready to come as soon as they called us.
The call finally came about 4:30 p.m. so we got to the title company as soon as we could. When we got to the table, they still didn't have our HUD approval and were waiting for it to be faxed over. So we went over everything else and near the end, it finally came through. Sheeesh.
We got out of there around 6:00 and headed into Houston where Chris had made anniversary dinner reservations at a Brazilian steakhouse called Chama Gaucha. It was my first Brazilian steakhouse experience and was very enjoyable. This particular restaurant is supposed to be more authentic and the place that Chris' Brazilian friends prefer. After such a chaotic, stressful day, we just decided to come on home after dinner. I was feeling mentally drained and just wanted to go to bed.
On the way to the restaurant, I made the decision to leave for Pecos on Sunday. I had put off making the decision until I knew if we would be closing. I couldn't leave until we had closed. I called my mom to tell her we had closed and since that was out of the way, Chris offered to take off the week of Spring Break so I could go to Pecos and help out however I could since Linsey was on bedrest and they were pretty sure they would be inducing on Monday due to her elevated protein levels. To be continued…….