Once I got back home, we started the moving process. Originally the sellers were going to be in the house until the 20th to give themselves some leeway as they were closing on their new house several days after we closed on this one. They ended up moving out a bit earlier so Chris got the keys to the new house during Spring Break.
Here are just a couple of pictures. I'll be sure to take more once we get settled. This is the view from the living room into the kitchen and you can see the dining room/formal living room as well from this angle.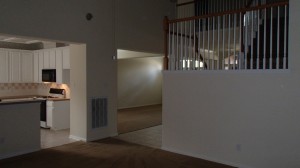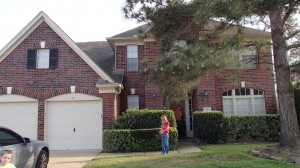 And here's the kids' favorite part. (Max's too.) We brought him over one night and he jumped in twice and had to be pulled back out. Grrrr. I haven't been pleased with his shenanigans around the pool. We've been keeping a close eye on him when he goes out but he still managed to "slip" in one night last week too and I had to let him inside drenched to find a towel since I couldn't leave him outside unattended.
The kids have braved the pool a couple of times and we've all enjoyed the hot tub on several occasions.