The kids and I left for Pecos on Saturday morning. I got off much later than I wanted to so I think that just got the trip off to a rough start for me. When I go on a road trip, I prefer to get where I'm going as quickly as possible. When I'm making the drive to Pecos, it's not about the journey. It's only about how fast I can get my crew across the state, preferably with my sanity still intact. I think we made 8 stops this time. EIGHT!
We got to the west side of San Antonio and the interstate was closed due to a wreck and all traffic was merging onto the one lane access road. The back up was around 5 miles and it took us about an hour to get through. It was brutal and I had to pee. I just said a silent prayer that the kids wouldn't have to go because there really wasn't a place to pull over for a good portion of that time. We made it to Kerrville for lunch about an hour after the snag. I'm pretty sure we got to DQ at the same time as every other car that was stuck behind the wreck. It took about 30 minutes to get our food. I was just antsy the whole time. And then, it seemed like every bathroom we stopped at had either ran out of toilet paper or had overflowed. Blech! We were making a final stop for gas and potty break in Ft. Stockton, 50 miles til our destination and about 5:00. Robert had to go. We walked in only to find the bathroom closed for some reason, and although I allow him to go in public men's rooms by himself now, I will NOT let him go in a large truck stop men's room by himself. Argghhh! So we went across the interstate to McDonalds. I always buy something when I go in to use a bathroom and I told the kids they could get some fries to split. We walked in and what did we see? A line of approximately 100 boy scouts. I officially gave up at this point. We hit the bathroom and I didn't feel a bit of remorse when we high-tailed it out of there with no purchase in hand.
We got to Pecos around 6:00 and headed over to Myrt and Joe's house where everyone was celebrating Wyatt's birthday. I was coming out of my traveling stupor so I didn't get any pictures.
We did absolutely nothing on Monday. I stayed in my pajamas and my mom and I vegged out on the couch the whole day while the kids played. We had considered going to Wink to visit Linsey and everyone assumed we had. Tanya called Linsey to talk to my mom and she's like, "They're not here. I don't know where they are." Ha!
Clara enjoyed playing with Cody and Tanya's puppies they're trying to give away. They're staying at my parent's house so the wild animals can't get 'em out at the farm.This one was her favorite; his name is Chewbaca.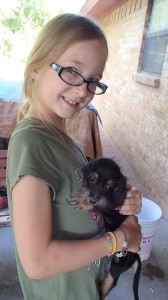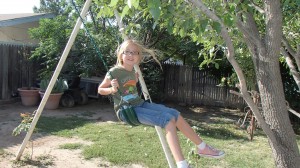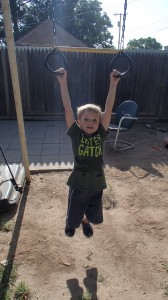 We pulled ourselves off the couch that evening and took the kids out to the farm to see Cody and Tanya's "barndominium" or "The Shanty" as it's affectionately called. I hadn't ever heard the term barndominium. They are temporarily living out at the farm, so they've bought  a barn with a loft that they'll be able to move and use as guest quarters whenever they buy some land. It has a bathroom, closet and kitchen area and they just laid the floors that weekend so we went to check it out. Myrt Myrt, Clayton and Taren had come out also to ride horses for a while.
Mason has added quite a few critters to his menagerie. He's got a couple of horses now, some geese, rabbits, chickens, a goat, a peacock and he just made a duck pond. The kids got to hold the new baby bunnies. I remember going into this same pen with Memaw when I was little to see the rabbits. I never liked to eat meat that Memaw prepared because I didn't want to unknowingly consume bunny rabbit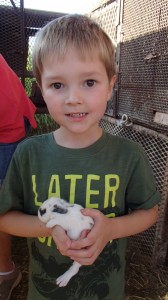 The kids took a short ride on the horses. Clara rode behind "Uncle Cousin Mason" and really enjoyed herself.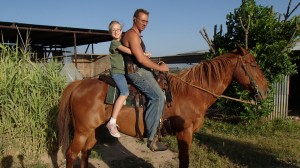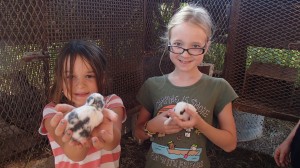 The next day my mom and I took the kids to the skate park with Myrt and her two. They had lots of fun racing down the ramps even with the wind and dirt hitting them in the face. That afternoon was more swimming at Myrt Myrt's house. The kids did a lot of cooling off in Myrt Myrt's pool all week.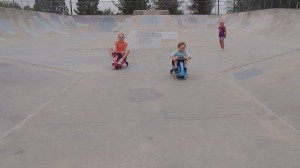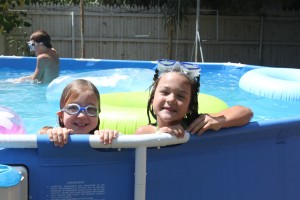 Linsey and the boys got to Pecos late in the afternoon and then we went out to the farm again. We wanted to try and get a picture of all eight grandkids because two of them were leaving to go stay with their other grandparents the next morning.We took the picture inside The Shanty because it was so windy outside and we didn't want Tenley out in it. There was a serious lack of cooperation so this is as good as we could get.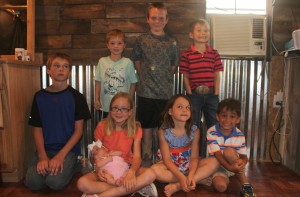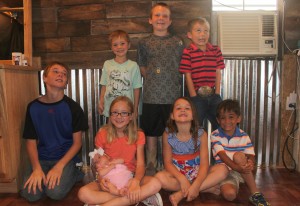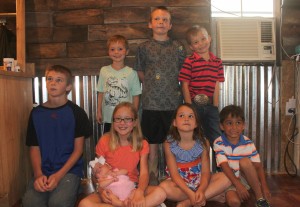 Bia wanted one with just the girls and we had to get a couple because they both wanted to hold Tenley. The boys, who were the source of noncooperation, declined to have another picture taken.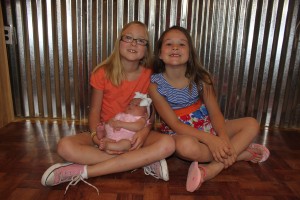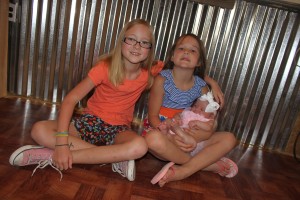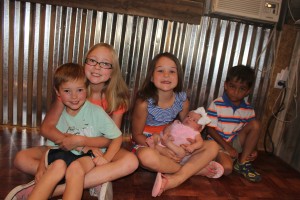 I did get some good smiles on the trampoline a little bit later.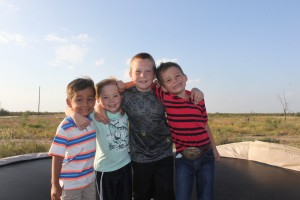 Tenley is almost 4 months old now already and growing like a weed.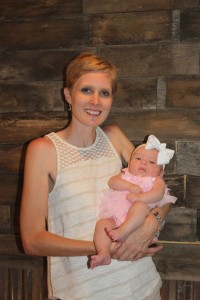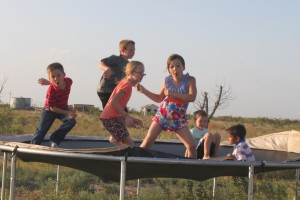 That night the kids slept in the living room together. Tenley is photobombing the big kids.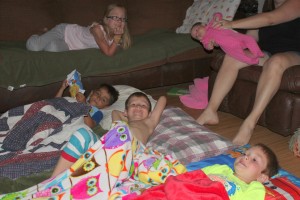 The next day was the rodeo parade and the first night of the rodeo, but I'll save that for a new post.