We hosted our first big shindig here at the house on the 4th. It was mostly Chris' co-workers and their families and past Brazilian co-workers that are now living here in Houston. And our neighbors from across the street. I think we had around 25-30 people in all. Chris' co-worker Kelly wanted to help out with the food, so she graciously offered to help plan the menu and then did the grocery shopping and helped prep it all.
When I went shopping for party decorations, I turned around to see Robert wearing these glasses and I just couldn't resist

They're all sorts of awesome.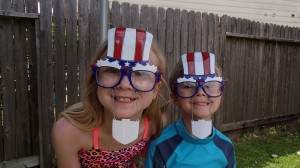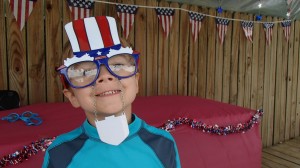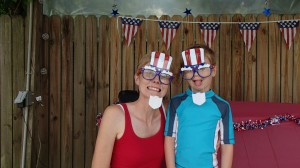 Most people decided to forgo swimming except for those with young kids who wanted to get in. My two stayed in the water the entire afternoon and into the night. There were a couple of teenagers who didn't know a single person and were bored out of their minds, so we sent them upstairs to play video games.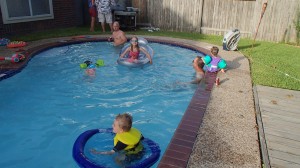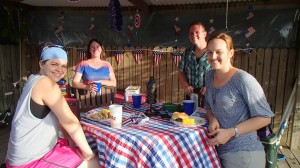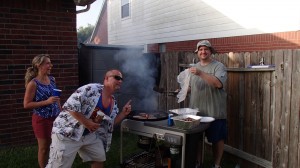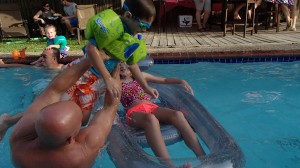 Clara thoroughly enjoyed the Dr. Pepper she was allowed to split with Robert. She was so cute when she came to ask me if they could have one. In a very serious manner, she assured me that if she or Robert started bouncing off the walls, that they would go to their rooms to calm down, but she didn't think that it would be a problem.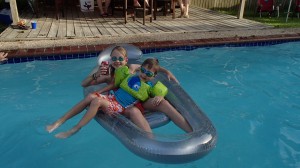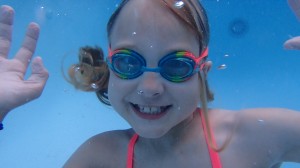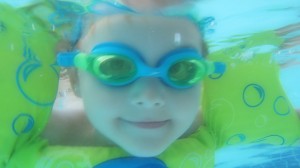 One of Chris' friends had brought fireworks, but we learned from our neighbors that they're illegal inside Houston city limits and the fines are pretty stiff. Sure enough, we didn't really hear any in our neighborhood. Our old neighborhood only a mile away was filled with them. I will say it was nice to not be woken up all night by them or have to clean up the inconsiderate neighbors' mess from our front yard.
Anyway, he decided to take them back to his house to set off, so the few single people with no kids that were left went over to his house to enjoy the display. Worked out great for us

Our neighbor Conner stuck around a while longer and then we called it a night a little before 10:00. Chris and I started cleaning up a bit outside. I had the kids jump in the shower and it was terrible. Robert was miserable, walking on tiptoes because his wrinkly feet hurt so bad. He was crying in the shower and kept telling me he was never ever going to swim again. While I was trying to get him dried and dressed, all while still crying, I heard Clara fall in the shower upstairs and start crying. I checked on her and then went back downstairs to finish up with Robert. Then more screaming upstairs as Clara got her towel hung on her earring as she was drying off. Oy! My pillow felt pretty nice that night.