The summer is quickly coming to an end. Sorry I've been such a slacker. As always, I love the free for all that is summer vacation, but man we need to get back on a schedule!
My mom and Myrt Myrt came for their annual visit mid-July. We always try to come up with new, fun things to do with them that they can't do in West Texas. This year we settled on The Melting Pot and a show at Miller Outdoor Theater. As I suspected, The Melting Pot was a big hit, with them and the kids

It was the kids' first visit as well and they were perfectly behaved despite the amount of time it takes to plow through four courses. I suspect they didn't want to jeopardize not getting their fourth course of chocolate fondue. And bonus, because there were six of us, we had to have a table with two pots. So we got two different cheeses, broths and chocolates. Chris and Clara got to have their nut, peanut, cocoa free white chocolate which meant the rest of us got to dine on the flaming turtle. Mmmmm, delicious.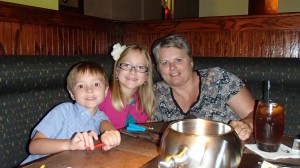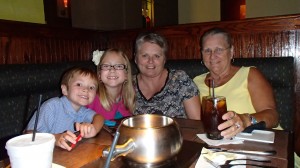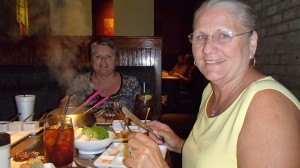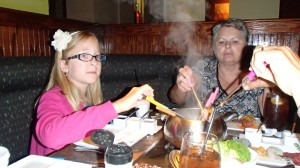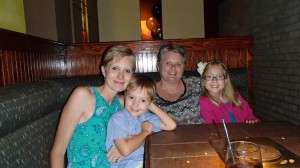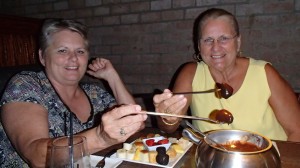 The next day we stopped in at the kid's resale shop and then had lunch and some cheesecake at The Cheesecake Factory. We split up afterwards so they could do a little shopping and we could go pick up Leah for a sleepover.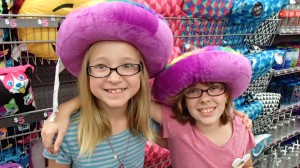 That night we headed back into Houston to see Smokey Joe's Cafe at Miller Outdoor Theater. I had done a quick check beforehand to make sure it was family friendly and didn't see anything to suggest that it wasn't. It had lots of familiar old songs like Hound Dog, Jailhouse Rock, Yakety Yak and a few others I recognized. There was no dialogue, only singing. Well, the first act had a few cringeworthy moments with kids there. It wasn't terrible, just a bit much for kids. One of the songs had a castmember stumbling around with a brown paper bag doing the exaggerated drunk thing. It was pretty funny, but Clara didn't get what was going on. She leaned over to Myrt Myrt and whispered, "This isn't like any musical I've ever been to." Ha! Robert was done before the first song was over, so we decided to leave after the first act. All the songs I recognized were in the second act of course. It was fun, even if we didn't see it in it's entirety.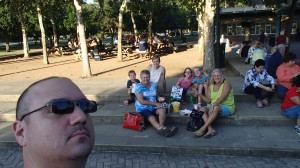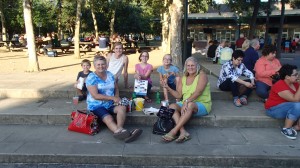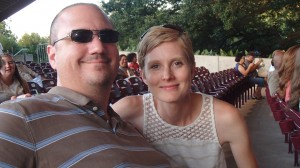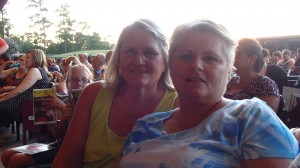 On their last full day in town, we just hung around with no agenda and spent some time in the pool. My mom and Myrt picked up groceries and cooked dinner for us that night.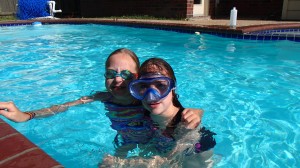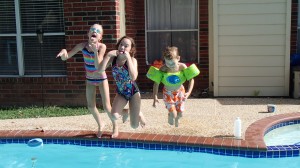 I'll be nice and refrain from posting the second and third pictures in this series when the dog bucked Bia off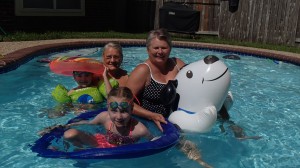 We'll have to come up with something new for next year. I think we need to take them to their first pro baseball game at some point or maybe the Museum of Modern Art. Oh yeah, that would get some awesome reactions from the two of them. Ha!