I meant to post these earlier. I couldn't get a good picture of Robert and his school bus on the first day because he was pushing kids out of the way trying to get to the bathroom. So these are from the second day of school.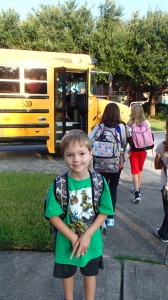 The bus was late that whole first week so Robert got bored and decided to take a rest. The little boy next to him is in Pre-K and is the sweetest little guy. He's so friendly and extremely observant. We hadn't met him before and as we were waiting for the bus that second day, he said he saw Robert at school the day before. He knew that he was wearing a white shirt with a chameleon on the front. Wow. There's about 800 kids at that school and he remembered Robert's face.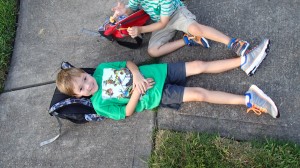 Well, no such luck letting Robert wait at the bus stop without me. I think the honeymoon is officially over. Yesterday while we waiting for the bus and after we had spent about five minutes catching lovebugs, he suddenly turned around and headed back to the house saying he didn't want to go to school anymore. I had to go retrieve him as the bus was pulling up and put his backpack on him. I just about had to physically place him on the bus.
I was working in the library, so I decided to check in on him at lunch time and he was doing fine. I asked him why he didn't want to go to school anymore and he said because he wants to stay with me and he just loves me too much

Fair enough. I have that effect on people.