Our September camping trip was at Lake Livingston. Despite the fact that it's relatively close, that was our first time to visit and it was a very nice park indeed.
We'd had a kinda rough week. Nothing too spectacular, but Chris' phone broke and it was a major ordeal trying to get a replacement since the contract is through his employer. He was having to work late for the last week or so and worked most of the Labor Day weekend. The Jeep broke down at work and had to be towed to a shop. It rained cats and dogs for a few days and then Thursday night as I was coming downstairs, I noticed our ceiling had a leak. Joy. You can see here where it is peeling at the seam. We knew we were going to need a new roof in the next year or two, but we had it inspected before we bought the house and we also filed a claim after a storm a few months ago when we found a piece of a shingle on the ground and they said they didn't see a problem. Sigh. So no one has been out yet but a new roof is on the agenda.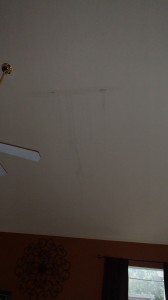 And then on Friday it was still raining. The kids' bus skipped our stop while we were waiting in the rain (we were in the car at least, not so with other students). They saw the bus come into the neighborhood from the wrong direction and then turn before getting to our stop. So after waiting for 20 minutes at the bus stop, I then get in the car to take my two kids and two of their classmates to school. Because of the downpour, the car line was backed up about half a mile. They were trying to keep everyone dry which meant 3 teachers helping unload at the covered area. So we inched forward three cars at a time. That line took 20 minutes, so the kids were 10 minutes late to school. By the time I started back home, the road was starting to flood and not 5 minutes later it came up as a flood advisory and cars were getting stuck. It was a mess. Turns out the bus driver was a sub and kids tried to tell him that he missed our stop but he wouldn't listen.
I wasn't feeling the whole camping vibe at this point. It rained all day which made it difficult to pack the car and I would have just canceled but Jason was meeting us there, so I soldiered on. We wanted to leave right when the kids got home so we could get through Houston before rush hour. Well, the road near our house was still flooded after raining most of the day. The sub was late to school and so the bus was 20 minutes late leaving the school. Of course I didn't know this until I see an email come out five minutes after they should have been home. They usually get home right at 4:00. It was 4:40 before they showed up! And I wasted almost that whole time waiting for them at the bus stop because I didn't want to chance the driver not letting Robert off without an adult there. Oy. It ended up being after 5:00 before we got out of town.
So had we known that we would be needing a new roof this week, we most certainly would not have purchased this new toy the week prior: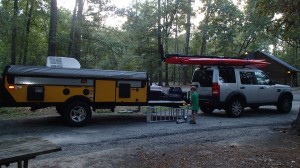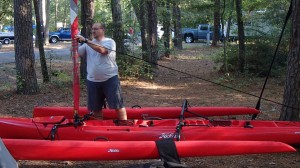 Chris is in heaven. We've talked about getting a kayak for a while so when he started researching them, he came across this sailing kayak. He's missed sailing and I figured this was a nice compromise and could fit in the garage and go on top of the car, so I wasn't too hard of a sell

You can put the outriggers on with trampolines that each hold 200 pounds and sail it or you can use it as a normal kayak without the outriggers and it also has pedals. It's perfect for our family because all four of us can comfortably be on it at the same time. The pedals are adjustable so the kids can even pedal it.
While Chris was getting it set up for it's maiden voyage, I spotted this spider web glistening in the sun. Robert has recently decided that spiders are his favorite animal, so I knew he'd be all over this thing. We stirred up some bugs in the leaves as we approached, so we got to watch them get caught in the web and then watched as the spider ran over and rolled 'em up for later. It was neat to watch and it was a really cool looking spiky polka dotted spider which made it even better.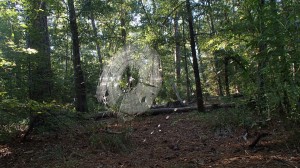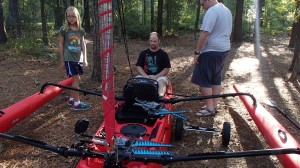 The kayak has removable wheels for transporting it to the water, so Chris pulled it to the boat launch. This sucker is heavy so it's a good thing we were camped pretty close to the water.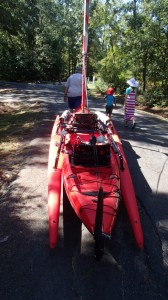 We had Chris test out the waters first and get a feel for it, so the kids were ancy waiting for their turn.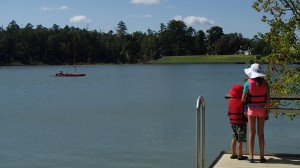 And we're off!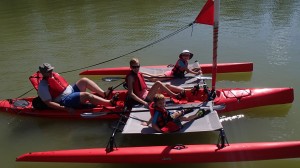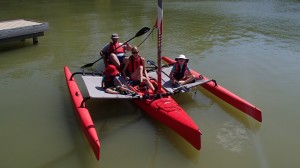 After a few minutes of pedaling around the bay, we headed out to open water. The trampolines are very comfortable and Clara even fell asleep for a few minutes.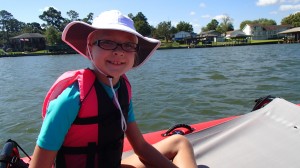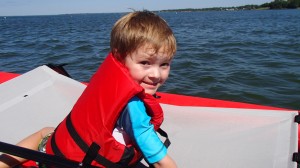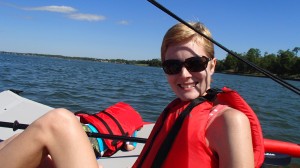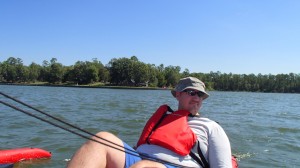 Here's Clara, lovin' life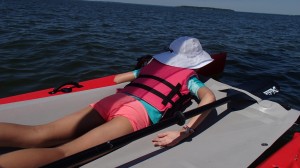 I let Robert sit in front of me and pedal for a little while and Chris put the sail up for a bit. We got to going pretty fast. The kids wanted to go out to a little island but it was several miles out and I did not want to go that far and then be too exhausted to get back.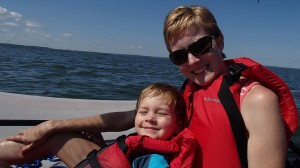 So instead, we moseyed on around to the main boat launch and docked at the park store. Chris got us into the little slip perfectly. We probably gave two older couples sitting there watching us quite the show as we tried to figure out the logistics of getting us all out of the kayak. I wouldn't describe it as graceful. They (along with everyone else that saw the boat this weekend) were very curious about the kayak so we spent several minutes talking to them as the kids ran around a bit. Robert made friends with a little boy whose mom was fishing on the dock and he kept yelling "Roger!" over and over when he wanted Robert's attention. Clara and Robert told him half a dozen times that it was RoBERT, but he was set on calling him Roger.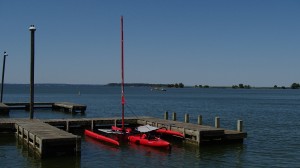 We had lunch after we got back to the campsite and then Chris and JDog took the boat for a spin. I wanted a nap so badly, but my children were not interested

I did doze off a couple of times, but I think that only made me even more tired. We kept an eye on Zef while Jason was on the boat and took him for a little walk down to the water to check on the boys after they'd been gone a lot longer than I thought they'd be. With JDog as an unwilling hostage, Chris ended up sailing out to the island. It took them a very long time and were on the water for over three hours (and 10 miles)  if I remember correctly.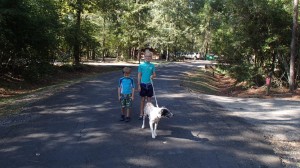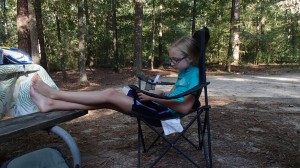 While they were gone, we had a scare at camp. Robert was eating a snack and asked for some of mine. He had one tiny bite of my trail mix crunchy snack things (cashews, pistachios and almonds) and about 10 seconds later started acting strange. He said his throat hurt and was just sitting there looking queasy. He couldn't really explain how he was feeling or whether or not his throat was swelling. I realized at that moment that I forgot Clara's epi-pen in my purse at home. I went searching for benadryl and couldn't find any and was starting to panic a little. I had about a 1/3 of a pepsi I was drinking and had him down the rest hoping the caffeine would help. He was feeling better and acting more normal and I didn't see any signs of swelling, so I just kept a close eye on him hoping Chris would be back at any minute.
After the guys got back, Robert started acting weird again so we gave him more caffeine. He crawled up in my lap and no sooner than I got him up there and situated did he lean forward and puke all over the ground and his shoes. Over and over again. He was right as rain after he got it out of his system and spent the rest of the day running around playing.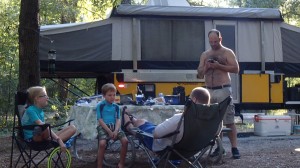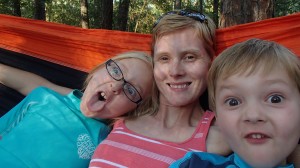 The kids played Old Maid and Crazy Eights while I chilled in the hammock, lamenting the fact that I couldn't take a nap. At one point I heard Robert say, "I love you so much, Clara". Awwww, melts my heart. They are such sweethearts. Sometimes.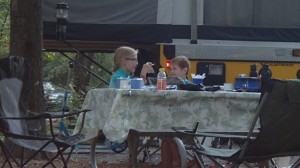 We had planned on taking the boat out again Sunday morning before packing up, but sleeping in felt more better

Instead, I took the kids for a hike to the park store to let them pick a little something to buy. Clara was eyeing a strap for her glasses so she wouldn't lose them while on the boat and we found the perfect thing for Robert–a laminated field guide to the spiders of Texas. He loves it and has been drawing pictures of the spiders and writing their names and we looked up the spiders we had seen during our stay.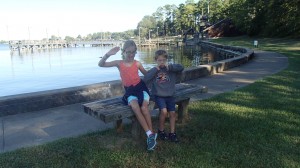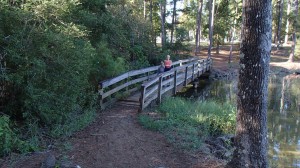 Once we got back to camp it was time to finish packing up and say goodbye to JDog. Robert was in a mood and refused to smile for a picture which made JDog sad.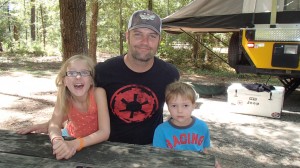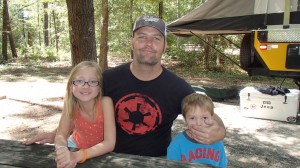 So when he finally decided to muster a smile, JDog didn't want to smile. Children can be so difficult