We just got back from camping this afternoon. We went to Martin Dies Jr. State Park near Jasper. This park is huge and was super crowded. There were numerous scouting troops there this weekend. Chris just happened to discover that one of his old co-workers from the corporate office would be there with his grandson and his cub scout troop, so we made plans for them to come over for dinner that first night. Sure enough, they were less than 10 spots down from us so they came and had hotdogs around the campfire.
The next day we put the boat in the water. Chris found an access point where he could slip it in relatively easily right across from our campsite. The water was pretty swampy in that spot so we decided he would paddle over to the canoe launch where I would drive and we could get in without getting wet. We brought Max with us this time and he was doing really well so we decided to try putting him on the kayak. We figured if he was freaked out I would just take him back to camp and Chris would take the kids out. As we waited for Chris to come around, a park ranger saw us by the launch and got out of his truck. He wanted to meet Max and said he had a corgi too. He suggested that we may not want to take him on the kayak because of the gators. The hair trailing off of him would  bring the gators right to us. He said he would probably be ok in a canoe, but wouldn't do a kayak. Yep, that's all I needed to know.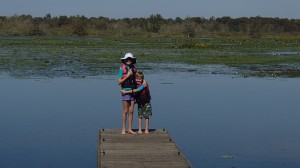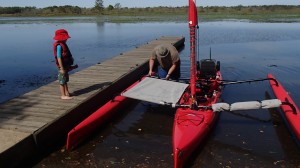 So Max and I headed back to the campsite to wait on the others. Chris didn't take his cell so I wasn't quite sure what the pick up plan was. I didn't know if he was going to come back to the launch or to the spot by our campsite where he put in. After they had been gone a while, I walked around to see if I could spot them. Sure enough, I saw a sail way out from the shore. They were sailing along the highway and Chris said they got several honks from passersby

Chris' friend had offered to keep an eye on Max for us that day if we needed him to, so I walked Max over to their campsite. We weren't sure how Max was going to do this camping trip because it's been a year since his last one and he's really slowed down these past few months. He doesn't even like to to cross the street anymore and gets really anxious if we try to make him. So what should have been a few minute walk took us about 20. And Max hitched a ride in my arms for a bit as well.
He did really well with Frank though and didn't seem bothered at all when I left him. He just laid down at his feet and fell asleep. I headed back to the launch to see if Chris and the kids had made it back there yet, but didn't see them yet, so I drove back and chatted with Frank while Max slept by my feet. At one point I saw their sail go past and I ran over to the water to try and get their attention. They were going pretty fast though and couldn't hear me. A while later they got to the launch and borrowed a phone to call me to come get them. The launch was only about a half mile from the campsite, so Chris decided to try and tow it back to the site. He strapped the front to tow hooks inside the Land Rover and then rode back there keeping an eye on it. I took it real slow and it worked great. Getting it to and from the campsite has been our biggest dilemma, so Chris is going to fashion something to make it a bit more secure in the future.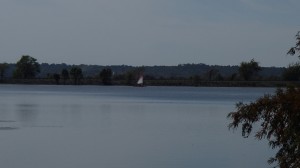 We just hung out at the campsite that afternoon and Chris started some chili cooking in the dutch oven. On my way back from a bathroom run, I noticed the pretty sunset reflecting off the lake and hurried the kids over to the water's edge. I was a few minutes too late to get a good picture, but these weren't too bad. I love Robert's random camping outfit. A dirty, food smeared face, Mario shirt, dinosaur swimsuit and two different shoes. I found some old water shoes in the camper that I wanted him to try on. He ended up wearing it and his sandal all afternoon.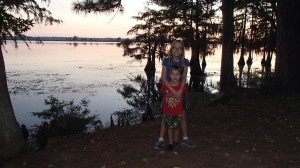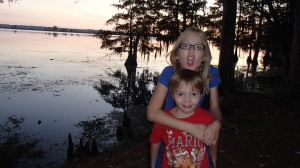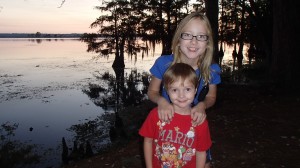 It got cold Saturday night. It was 49 when we woke the next morning. We just used our electric heater and it kept us nice and toasty all night. The next morning I took Clara on a short hike before we finished packing up. It was a beautiful clear morning and was starting to warm up nicely. I decided to leave Robert since the last time I took the two of them by myself he was a big toot who was uncooperative and threatened to go back by himself the entire time. I had intended on running a mile with Clara for her Read Deed Run club requirements, but went and forgot my tennis shoes at home. I only brought sandals, so those chilly mornings I had to resort to socks with my flip flops to and from the bathroom. Oh yes I did.
We crossed this bridge at the trail head over a really pretty, swampy spot and then looked out over a long, tall observation bridge.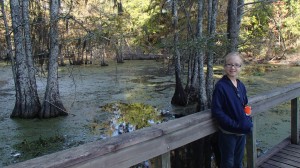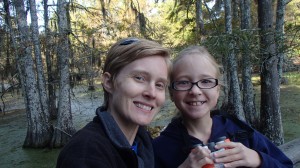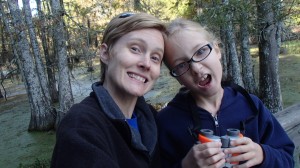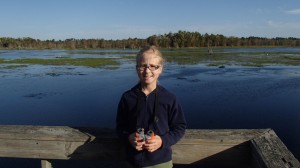 This short .8 mile trail ran the perimeter of a small island and was a heavily wooded spot. Clara brought her binoculars but she couldn't even see the birds we could hear because the vegetation was too thick. We didn't see another person on the trail. I was really hoping an alligator didn't sneak up on us so we made sure to make a little noise. I didn't want to sneak up on one either.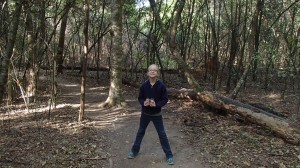 I liked this park a lot. It has lots of hiking trails, lots of paddling trails and is very shady. The bathrooms were a little lacking and the dumpsters were not easily accessible. They were located outside the camping loops and you had to drive to throw your trash away. The park is cut in half by a highway and the other side looked to have a lot clearer water. Our side was very boggy. The other side also has a roped off swimming area. This one is definitely on our list of places to return.