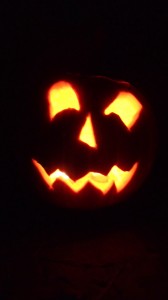 I've really been slacking this month. No pumpkin patch, no fall festival, no caramel apples, nothing. I finally bought a pumpkin a few days ago and the kids have been begging to carve it. I relented this afternoon, after I took a nap on this rainy, overcast day. I couldn't put it off any longer. Clara carved the pumpkin all by herself this year. The innards were making her itchy, so she fashioned some gloves out of sandwich bags and got back to work. Robert wanted nothing to do with the slimy insides.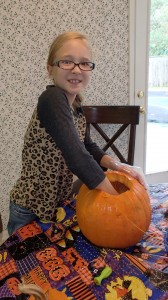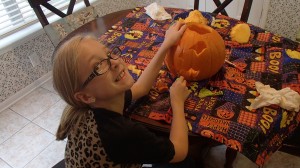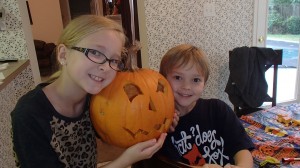 I also finished sewing her bat wings on this morning. She's a rainbow bat. Rainbow because of the laces on her boots. She wanted neon ribbons to match her shoes but I couldn't find any thin ribbon to add to her tutu. This grosgrain ribbon was too wide and I tried to convince her to do without, but she insisted and added it herself. It's kinda random, but she loved her costume. Robert could not decide on a costume, so we took a trip to the Halloween store. He spied the ninja section and it was all over. No more indecision.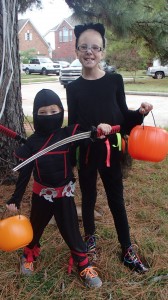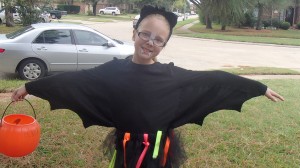 It was my idea to have her tape her nose. I'm kind of surprised she did it. Tee hee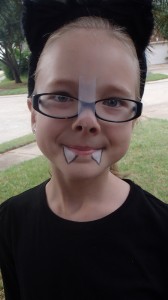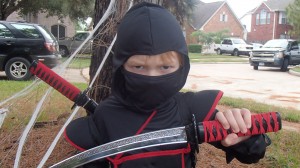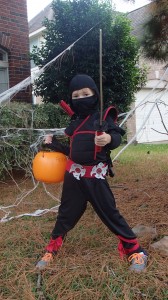 We kept losing the ninja because he blended in to his surroundings so well.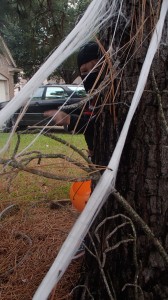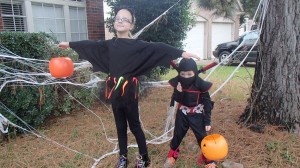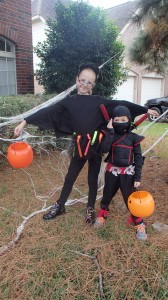 Lost him again at dinner. Do you see him?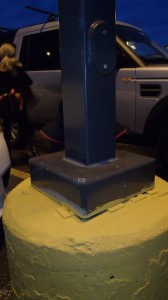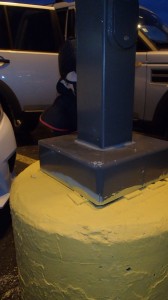 We stopped by our old neighbor's house to say hi, but they weren't home

So we came back to our neighborhood and the kids went around with our neighbor Barrett. He was a pro and said "trick or treat", remembered to say "thank you" each time and even "you're welcome" a time or two.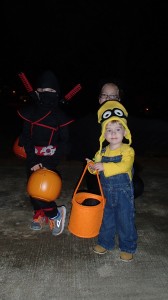 After about a dozen houses, Robert was ready to go home. He didn't even want to stop at homes on the route back. You'd think after looking forward to something for weeks, he'd be able to make it longer than twenty minutes. We chatted with the neighbors for a few minutes and then went back home. They went straight upstairs to watch "The Nightmare Before Christmas" while sorting their candy. I overheard Clara saying, "Here's the peanut candy I can't have. Here's the sweet candy you suck on. Here's the chocolate. Here's the Chinese candy."