We are finally the proud owners of a brand new roof!
These are a couple of before pictures. You can see how badly worn the back was.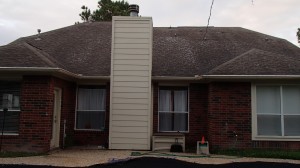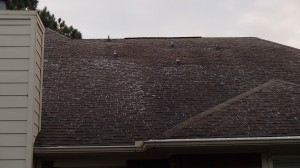 And here was the "during". It was a mess. And loud. I decided to stay home the entire day so as not to stress Max out even more. He couldn't hear much, but even he occasionally jumped at an especially loud thud and I'm sure he felt vibrations. There were a lot of guys up there. I tried to stay downstairs. It sounded like they were just going to fall right through the ceiling when I was upstairs. Max paced around nervously and ended up following me from room to room, but he did ok.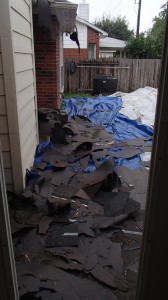 That is until the guy came back at the end of the day to check and make sure everything went well and to get paid. I was cleaning up the kitchen and he and Chris were talking in the living room when I heard the tell-tale piddling sound of pee on floor. I came around the corner to investigate and Max was peeing right at the guy's feet! Just did a little semi-circle around him. He didn't even notice. I was so embarrassed. That's the second time he's done that to a guest in the last few months. He really is an old man and just doesn't care one bit what anyone thinks about him anymore

So anyway, here it is. Isn't it lovely?