Sorry I'm late in posting pictures from Robert's birthday last Monday. It's been a long week. He got to pick dinner and an activity and decided on Main Event for dinner and video games. I brought cupcakes and the few gifts he had to open and Kelly joined in on the fun. He wore his birthday crown that he got at school all night.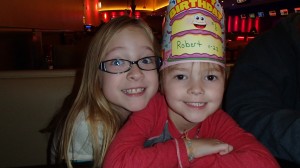 At 6, all the boy still wants is cars. Clara got him a couple of color change ones and we got him the Moscow racers series, so they're covered in snow.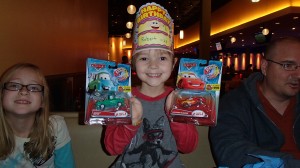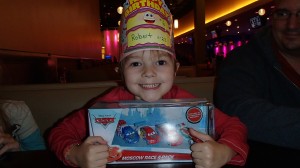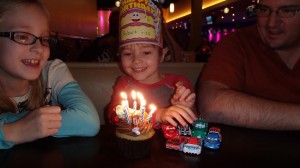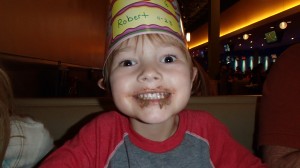 He had a wonderful time and was really good at a lot of the games. He especially loved beating me at the tank game. He kept his eyes pealed for my tank to destroy and did a pretty good job I must say.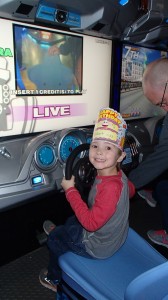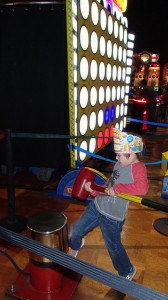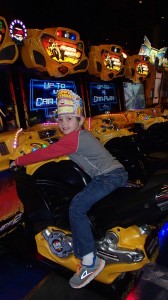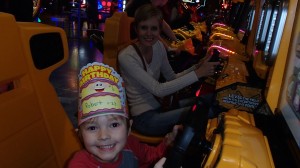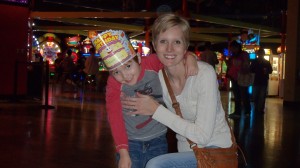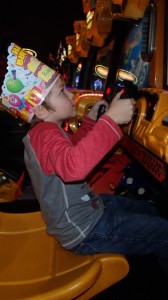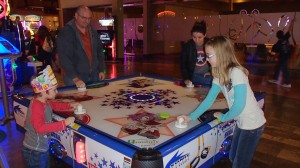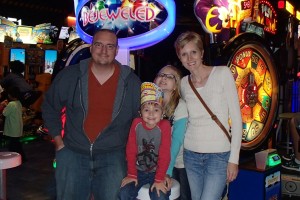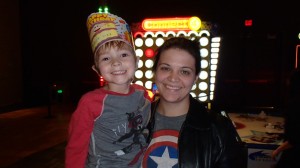 It was late and they had school the next morning, but we let him go spend his Toys R Us gift card he got from Bia and Pawpaw anyway. I figured if we waited we would officially be in holiday season and I didn't want to pass through those doors come December. He chose a car playmat (that we thought would fit under his bed, but did not), a carbon Lightning McQueen and a Ninjago guy that spins in the air. We told him he had to carry all of his stuff himself

That was pretty cute. He only almost knocked over a couple of displays as he headed for the checkout.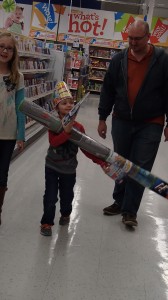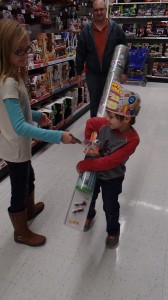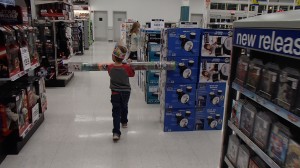 It was a great, low-key birthday and by the look on his face in these pictures, I'd say he was pleased. I was a little worried when he woke up two days earlier and informed me that he would like a Minecraft birthday party. Thing is, he's not real social and doesn't have many friends so he wasn't at all interested in a party when I asked him a couple of months ago. I reminded him that he and Clara chose to ride the Polar Express instead of having birthday parties this year and he was completely devastated. It took quite a while to convince him that this wasn't going to be the worst birthday ever. He was also sad because his birthday was "short" this year. Meaning he had school that day

I kept asking him why he wanted a party so bad and he couldn't seem to tell me. Eventually I asked if it was because he wanted lots of friends to bring him presents. With the biggest sad face and through tears he just nodded his head 'yes'.
I'm afraid I have to put the blame on myself for that one. I had no idea what he wanted since he still only likes cars so I took him to Target to look at the toys the night before. I was going to use his giftcard  beforehand to buy what he liked so he would have several gifts to open. I guess that got him thinking about all the toys he would be missing out on by not having a big party. I've already told him, "Next year you are having a birthday party, whether you like it or not!"