Robert's Thanksgiving feast took place on Tuesday afternoon. Oh my, Tuesday was a long day. I was just running on auto-pilot all day helping the other grades get food to their classrooms that had been dropped off at the front. And then I kinda got put in charge of getting the kindergarten feast set up. There was SO MUCH FOOD! I probably walked 5 miles that day, pretty much not sitting down until I got home at 4:30. My back was on fire by the time I got home.
The kids had a short little re-enactment before the feast and Robert was a narrator and spoke the last line. He did great and didn't seem a bit nervous. Then all the classes sang a couple of songs. Robert wore his new Brazilian soccer jersey that Chris brought back from his latest Rio trip.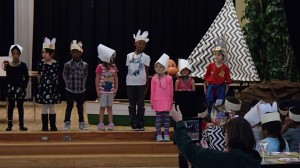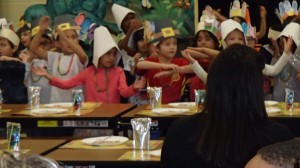 I snapped a quick picture of him with his "feast" before getting back to making sure everything was running smoothly. Thankfully the parents that were there seemed to not mind helping those kids who didn't have a parent present choose their food and get back to their seat without spilling.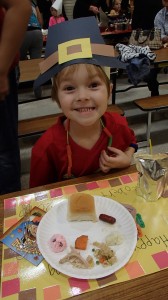 Of course, as things were wrapping up, the parents were vapor and I was frantically trying to load all of the food onto carts to get them out of the cafeteria so the custodians could clean up and put tables away. There was only about a 10-15 minute window to get it cleared out before dismissal when hundreds of car riders would descend upon the cafeteria. A couple of moms had mercy on me and asked if I needed some help. I ended up running to both kids classes to tell them not to get on the bus and then running around for another hour after school let out to get everything mostly squared away.
Our initial Thanksgiving plans were to go camping at Cleburne State Park. When the weather looked like it wasn't going to cooperate and we would be camping through freezing cold thunderstorms, we decided a change of plans was in order. Since Linda was already planning on bringing a good chunk of our Thanksgiving dinner anyway, we just decided to crash their house instead

We left Wednesday afternoon and came home Friday morning, so it was a quick trip. And laid back. We pretty much just sat around and ate. When we got there we discovered that Robert forgot to pack his clothes and get them into the car. I had set them all out but apparently his priority was on packing his entertainment backpack. So Chris and I got to run to Target Wednesday night and pick up a few things for him. Chris is such a joy to shop with. He'd find the pj's and then say, "Pick some. It doesn't matter. 15 seconds. Go!" Same thing with underwear. And socks. Hello. I can not just "pick" random underwear. I would not be a fit mother if I didn't do a thorough check for racecar undies. So Robert got a new mini wardrobe and I'm really hoping that Clara doesn't now "forget" to pack for our next trip. I need to make a mental note to check the back of the car before pulling out of the driveway.
Clara woke Thursday morning with a fever, so that ensured we wouldn't be doing anything aside from lounging. Chris and I got to make another trip to the store for some children's medicine. She was pretty miserable but she perked up a bit after getting meds.
I got her into the clinic right when we got back home on Friday. I was sure she had strep. Her only symptoms were a sore throat, headache and fever. Her rapid test came back negative. The PA thought she probably had it too and sent it off to be tested. The next day she was fever free but she started coughing and had a runny nose. So turns out it wasn't strep. She's still sniffly but was able to go to school today since she'd been fever free for 48 hours. Hopefully whatever it is is on it's way out because she needs to be well for all the fun stuff in store in the coming weeks.