For the last couple of weeks, I've been saying that we just need to get through Sunday without anyone getting sick. I knew last week would be a hectic one but that after Sunday things would slow down considerably.
I forgot to mention that Clara had a choir performance last Monday night at the high school. The elementary choir performed one song with the 6th grade choir. We were sitting pretty far back, so I didn't take any photos of their performance. I'm trying to learn to be ok with not taking pictures of everything. I usually can't get very good ones of things like this anyway, so I'd prefer to just sit back and enjoy the show rather than get worked up about not getting the perfect shot. So I took one of her in front of the Christmas tree in the Performing Arts Center on the way out. Seeing the junior high girls in their long black dresses and performing with them only confirmed that she wants to continue in choir once she gets to junior high.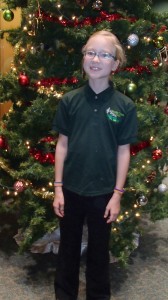 On Wednesday night, Linda had set up a dinner date for all of us with some of their old friends that live about 20 minutes away from us. They were neighbors in Salem, Oregon and Chris and their son Chad were best friends during elementary school. They hadn't seen each other in about 30 years, so it was a fun dinner and they all enjoyed catching up.
The kids' Winter Wonderland event took place on Thursday night. I spent the afternoon helping set up for the event and Dan and Linda were nice enough to meet the kids at home after school so I could continue to help without dealing with picking them up and figuring out how to get them ready and back up to school. I helped during the whole event, but I did pull myself away and watched each of the four performances that the kids were in. Clara performed with the pep squad, choir and 4th and 5th grade and Robert performed with the kindergartners.
I left my camera in my purse and was running around so much that I kept forgetting to bring it in to the gym with me. Linda got all of these pictures, which was a feat. She, unlike most everyone else, tried hard not to be disruptive and stand in the way of others to get a few shots. Others weren't quite so considerate.
They all sang so well. Clara was part of a quartet chosen to sing the first verse of one of their songs in choir. Initially it was supposed to be a solo, but I think the choir director was afraid to narrow it down any further in case of illness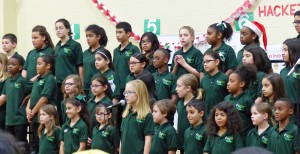 She changed into her pretty holiday dress for her grade level performance. I mainly wanted her to change so she wouldn't be in her choir shirt for a picture with Santa, but she decided she didn't need to sit in Santa's lap this year

Several of the kids played the bells and recorders to accompany the singers and the Orff ensemble also performed with them. I can't get over how good all the kids sounded. Our music teacher does an outstanding job.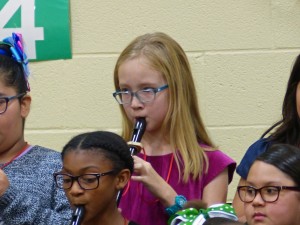 During one of the breaks between performances, Robert got to sit in Santa's lap. He asked for legos. Nothing specific this year, just legos. He actually wanted to ask for a Ninjago set that he saw in a catalog. I told him that Santa probably wasn't too keen on gifting him with a $200 set that's for ages 14 and up, so he begrudgingly decided on just plain 'ol legos.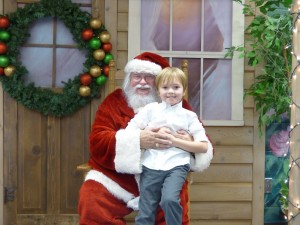 Robert did fantastic. He sang his little heart out and did all the movements. Look at all of those 5 and 6 year olds doing (basically) the same thing at the same time. She's a master educator I tell you. Robert kept checking out his neighbor's moves the entire time. I don't know if he wanted to make sure she was doing what she was supposed to or make sure he was doing the right thing, but he just stood there smiling at her the bulk of the time

He loved being in front of the crowd just like his big 'sis.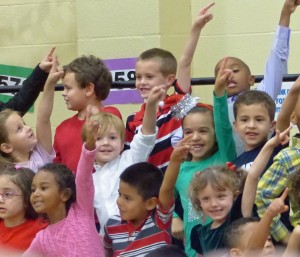 The pep squad was the first performance of the night at 6:00 and 4th and 5th grade was the last, so it was 8:00 before they were done. There was only a few minutes between all the performances before one of them had to go line up for their next one, so it didn't leave much time for getting food. Chris took everyone to Smash Burger and then picked up a to-go order and brought it back up to the school for me as I was helping finish up around 9:00

Meanwhile, Dan and Linda went home and made sure the kids got straight to bed. So it may have been a chaotic, tiring day, but I'm just thrilled that both kids stayed well this year and could attend their Christmas program. It just doesn't feel like Christmas without a kid performance or two thrown somewhere in the mix.