Here's a look at February around here. If I don't have a picture, then it didn't happen .
Robert's friend Eli came over to play one afternoon while his parents had something they had to attend to. Robert was acting terribly and refused to play with him. I had to pull him aside several times to talk about his attitude; he must have just been having a really bad day. I was so embarrassed by his behavior but Eli was very understanding and didn't seem too upset.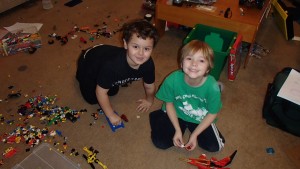 Chris has been interested in starting up woodworking for quite some time now. He purchased a few woodworking tools with Christmas money and set to work. His first project: a workbench. He's really enjoying himself and has built a bench and small table, as well as a kayak holder on wheels.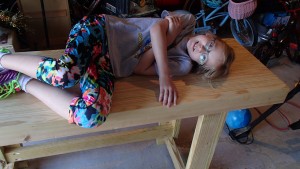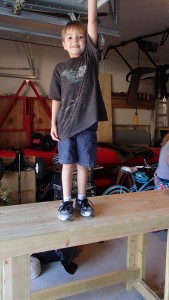 I helped out with the Valentine's parties at school. Robert's teacher was so sweet and wanted to go all out for her class since it's really the only class party they get. She said her babies work hard and she wanted to treat them to a feast. She had me pick up pizzas and then I helped her set everything up while the kids were at specials. She bought plates and napkins, cheese and crackers, fruit and even made up little goody bags for all of the kids. Other parents brought sweet treats as well.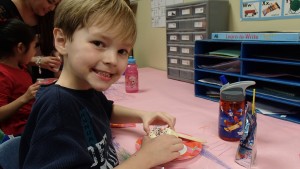 PTA gave each class sugar cookies that they could frost and add sprinkles to. I looked over at one point and caught Robert licking all of the runaway sprinkles off of his plate.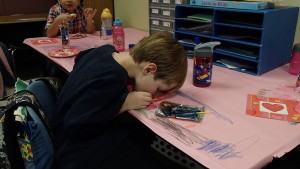 Daddy brought Clara and me roses for Valentine's Day.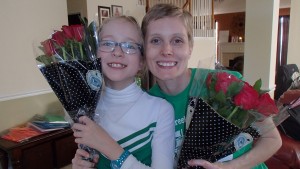 The next weekend was the local livestock show and rodeo parade and the pep squad participated in it. I had never been and didn't know what to expect trying to pick her up at the end of the route, so Robert and I parked ourselves right at the tail end of the parade so we could walk to meet up with Clara at the end. Most people were out of candy by the time they got to us. It was a loooong route, so they were all pretty pooped by the end.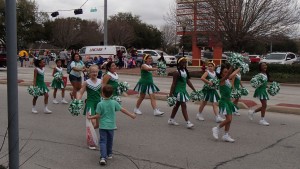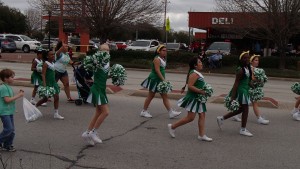 Here is Clara with her friends, Lauren and Ivonne or Ivette, not sure which this is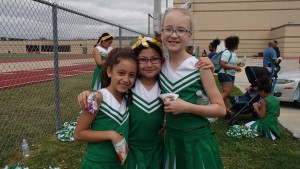 And then I babysat some DeCarlos for a few hours while mine were at school. This little guy decided it would be hi-larious if he blew out his diaper a mere fifteen minutes after his mommy left. I'm apparently a little rusty when it comes to changing blowouts and he kept looking at me as if to say, "Are you sure you've done this before?"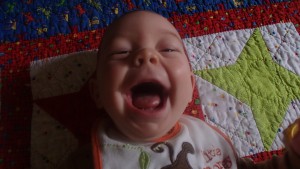 No one wanted to pry their eyes away from what they were doing for a picture.