The first couple of weeks in March were really busy. The Glow Run, which is the fundraiser for Read Deed Run, was on the 1st. The kids in RDR helped set everything up, register participants and clean up; Clara enjoyed every minute of it. I know I took pictures but I can't find them.
The next day was my birthday and we enjoyed dinner at Salt Grass to mark the occasion.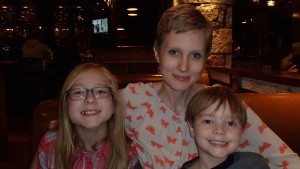 After that was helping out with Field Days on Thursday and Friday.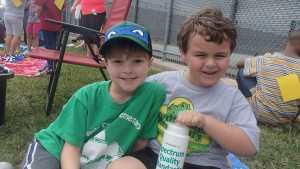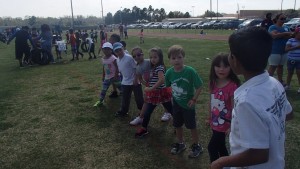 The kids received beads for each station they completed. Here Robert is giving me thumbs up after completing all 12 stations.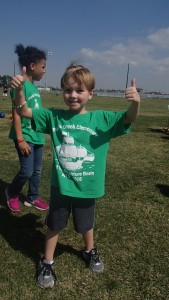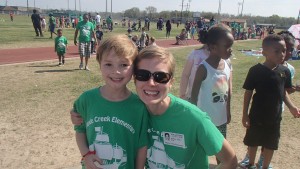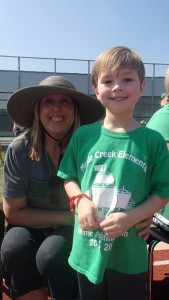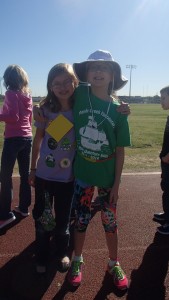 The choir sang The Star Spangled Banner before each session.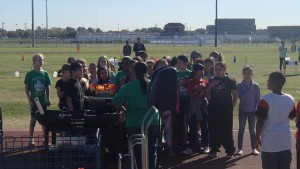 The next week was a full one too. Our anniversary was on Monday and we actually got a sitter and went out to eat at Perry's Steakhouse. It was my first time there and I got the massive pork chop. And proceeded to eat not even a quarter of it.
Then there was the book fair, Muffins with Mom and picture day. I had planned on volunteering for the first two, the latter I kinda got roped into the day before as I was leaving school. Oh boy, picture day was chaotic! I ran myself ragged that day.
It was the week after Dr. Seuss' birthday, but the kids still had themed days during book fair week. Thursday was the storybook character parade. Clara was Dorothy but her dress was an epic failure, so I had to convert it to a skirt. I probably could've done some alterations, but my last minute volunteering for picture day kinda threw a kink in my last minute sewing project. Oh well, she loved it anyway. Robert was  a Lego Ninjago character.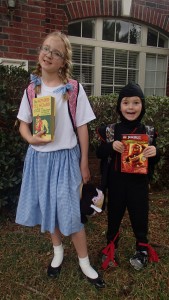 Here he is proudly sporting his Cat in the Hat hat he made at school.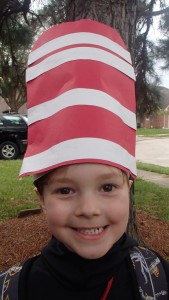 I was trying to keep the volunteering to a minimum that week (easier said than done) because the next week was Spring Break and we were leaving to go camping on Saturday.