In February, we upgraded our camper to a hard sided one. We didn't tell the kids and surprised them when we went to hook up to leave for our Spring Break camping trip. Robert, who doesn't like change so much, was in tears when we told him we sold our pop-up camper.
When we got to the storage facility to pick it up, the new camper's battery was running down which caused the carbon monoxide/smoke detector to give off a loud, shrill beep. Robert doesn't like loud sounds even more than he doesn't like change, so he was none too happy about this. It took him all weekend, but he eventually warmed up to the new camper. I still think he would trade it for our old one if given the chance though. Here they are trying out their new bunks.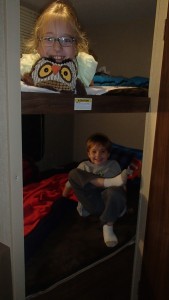 East Texas had experienced a lot of rain right before our trip. Many of the campsites were big swampy messes, but we found this one site with a nice open field perfect for the kids to play in. Unfortunately, most of the trails were also huge mudpits so we didn't do much hiking. It was funny watching people traipse past our campsite on the trail. Without fail, within minutes they would be turned around headed back the way they came.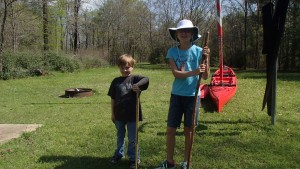 This bridge went out to an island that had a trail and primitive camping. A good portion of the trail was dry, so we hiked it until it became impassable.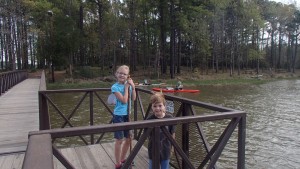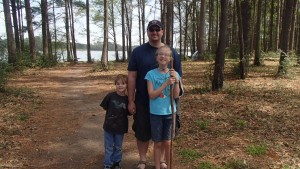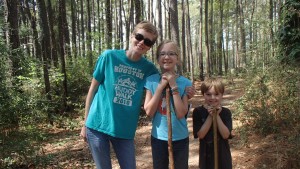 Dan and Linda drove up Sunday afternoon and joined us that night and Monday. They wanted to come check out the new camper and see our kayak in action. We took them down the trail by our campsite for a short span until it became too muddy. We were looking for animal tracks using our new field guide we purchased at the park store. That was one nice thing about all the mud- nice, clearly defined tracks.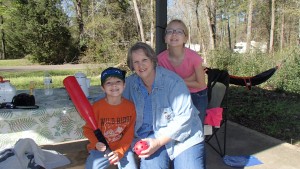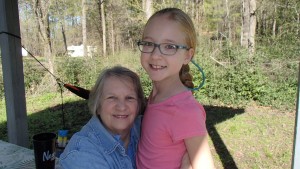 We had chili and cornbread that night, courtesy of Jason.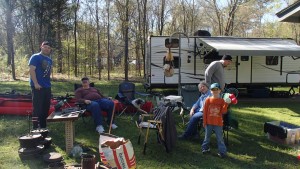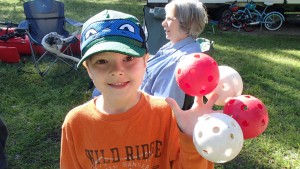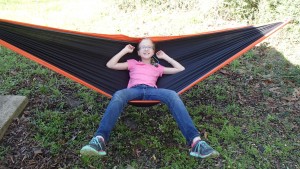 Chris took Clara out in the boat just the two of them one afternoon. They got to going really fast with the sail up and didn't notice that the wheels, which can just sit on top when you're out on the water, had gone flying off. They float, but Chris had no idea where they fell out and they had covered a lot of ground, er, water.
The next day, he and Jason (and Zef) went paddling around the shoreline to see if they could find them. No such luck. Look off in the distance in this picture and you'll notice a rather large power plant nestled right on the far shore of the lake. Yeah, they don't advertise that view on the park's website 😉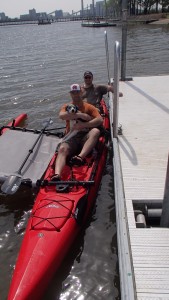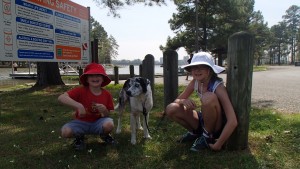 Robert brought over this "baby broccoli" to show me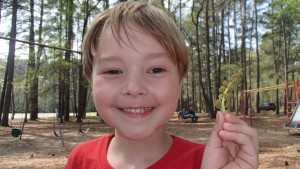 Looking forward to lots more adventures in our new home away from home