April seems like a really long time ago. I'll do the quick run down.
First off, dental work. Lots and lots of dental work.
Clara's friend Abby came to stay with us for a week. The girls had been counting down the days for a couple of months. Her parents went on a cruise and sent the four oldest kiddos to stay with friends while the grandparents watched the two youngest at home. The girls had a lot of fun on their extended sleepover.
Around this time I also started watching my friend Becky's daughter Emily some after school. Becky has a brain tumor and is having a really hard time getting brain surgery scheduled. Long story, but it should have been done weeks ago but she's still waiting for a surgery date. The tumor has grown, she has swelling on her brain now and is having seizures and can't get out of bed most days, so I'm trying to help her out with Emily as much as possible. She's gotten worse, so now Emily rides the bus home with my kids and I take her home about the time her dad gets home from work. I've been taking them dinner most nights and Chris' friend Kelly from work has been making her meals for me to take too. So that helps at least a little. Becky has been assured she will have surgery by June 1st (even though they still haven't given her a date), so Emily will stay with us until she's home from the hospital. This picture was from a trip to the yogurt shop on an early release Friday when I had both Abby and Emily.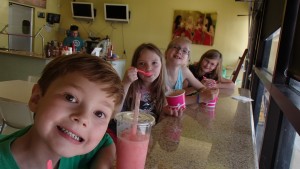 The day after that, Clara and Abby attended the Children's Music Festival where they performed with the choir and brought home a trophy. Clara's music teacher asked her to join the Orff Ensemble in March. (She had tried out at the beginning of the year but didn't make it.) I'm guessing some kids had dropped out or were no longer eligible and she needed to fill spots. Anyway, Clara enthusiastically said yes, so since then she's had either choir or ensemble practice almost every morning. Abby is also in both, so it worked out fine taking them both early the week she was with us. Abby was also in the honor choir, so I had to unexpectedly take her to a practice at a nearby high school one night.
The following Sunday night we had lots and lots and lots of rain. At the time, Chris was dealing with a situation at work that required him to be up between about midnight and 3:00 a.m. every night. Our electricity went out that night so he had to go into the office. Our electricity actually came back on after only a few minutes, but he had already left for the office. When he got ready to leave his office around 4:00 to come home, the roads were beginning to flood and they were starting to close some of them. To be safe, he decided to sleep in the jeep in the parking garage and wait til it was light out.
Because I'm technologically impaired, I couldn't get my internet back up on Monday morning. Turns out there's some "master switch" in some drawer that needed to be turned back on. We don't have tv either, so I had no idea how bad the flooding was. I finally found a phone book and called the school district hotline to find out if school was cancelled and it said it was operating on normal schedule. I called three different times to see if it had been updated before getting in the car to take the kids to wait at the bus stop in the rain.
The road was dry right in front of our house, which is why I didn't know it was so bad, but by the time I got to the bus stop that's just up the street, the water was really high. I noticed a car on the street a few houses down that was partly under water. I figured it was probably flooded coming into our neighborhood too, so I turned around.
I called Chris to see if he had heard if school was cancelled and woke him up in the process. Oopsie. Yep, it was and had been called around 4:00 a.m. I guess they don't update their old-fashioned hotline anymore. He decided to try to come on home since it was light out. Water was pretty deep in some places, but when he got about .5 mile from the house, he could tell it was getting high quickly so he decided to pull into some stranger's driveway to wait it out. That was the only way in to our neighborhood. The other way always floods so he knew it would be impassable. About three hours later, he could tell that it had gone down and after watching a few trucks get through, decided to come through as well. It was still really deep, but he made it through unscathed.
He had started feeling sick while he was waiting it out, which was part of the reason he didn't want to wait any longer. Sure enough, he felt worse and worse on Tuesday and was on breathing treatments every few hours. By Wednesday morning I was calling to get him in to the doctor. Thankfully we were able to get out of the subdivision and he was able to be seen right away. He had strep, so after getting a shot of steroids he was feeling much better a few hours later.
These pictures were taken on Thursday. No homes in our neighborhood flooded, but several cars on the street did. The water made it up to the sidewalks on a couple of the streets. Our house just had water up to the curb on the first day and there wasn't even any standing water in our backyard so we were very lucky.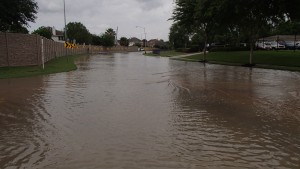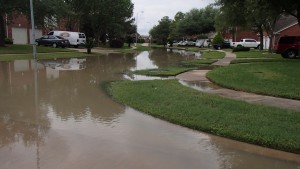 School was canceled all week. Even though no schools in the district flooded, many district employees were unable to get to their schools due to high water and there were some families in the district that flooded. A highway and several main roads near our house were flooded and only reopened a couple of weeks ago, so traffic has been diverted to roads on either side of us making traffic a nightmare this past month.
Cabin fever started to set in by the end of the week. The kids watched some original Batman tv episodes and then went to work making masks for themselves.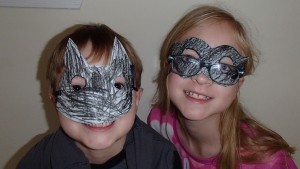 Here is Robert wearing his mask and utility belt, holding a batarang he made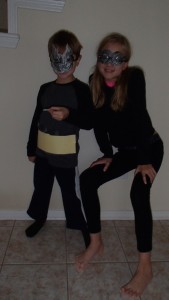 I started worrying about their sanity when I looked over and saw this getup. This would be Robert doing a little light reading in a batman mask, along with an Indian headdress he made at school at Thanksgiving, topped with a pair of bloodshot Halloween eye glasses while wielding a pirate sword.