Ok, I have to do something here. I'm just getting further and further behind and I cannot just skip blogging about the last few months. I'm going to work my way back.
I have been looking forward to our family retreat for a while now. This church places high value on strengthening families and does so in a variety of ways. There have been several father-child Saturday events, Chris attended a dad's class on Wednesday nights during the summer, there is a yearly marriage retreat, a marriage conference last weekend and a father/daughter retreat coming up.
We've met some people at church, but I thought this would be a great opportunity to get to know people better. We went to Pine Cove Crier Creek, which is a facility designed for family camp with individual cabins for lodging. We got lucky and our family got to stay in their new building that was just recently built. This was on the porch of our cabin, overlooking the lake. We were definitely not expecting such luxurious accommodations.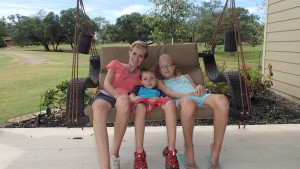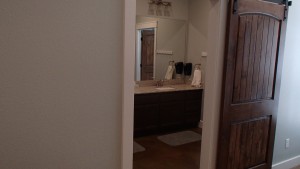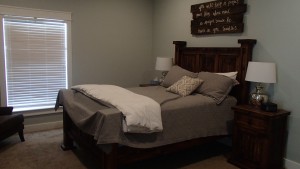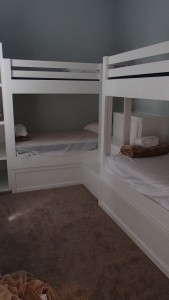 These pictures are all out of order, so bear with me. These are Clara's friends Mackenzie and Malana.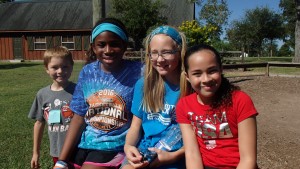 There was foosball and ping pong on the front porch of the dining hall, so Robert enjoyed getting a game or two in every time we gathered to eat. That's his friend Colton next to him. I enjoyed rocking in the numerous rocking chairs lining the porch.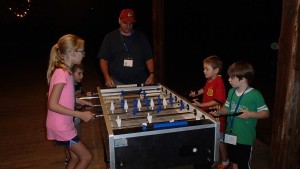 This picture came out really dark, but this is Robert's friend Owen. The small lake had canoes, stand up paddleboards and kayaks.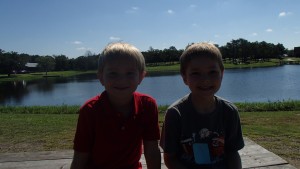 And here is Clara and Mariah, who is in her same grade. Clara is a giant. And apparently has lots of church friends whose names start with "M".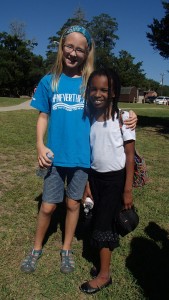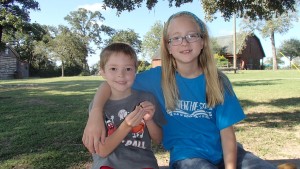 The kids swam at the pool yesterday. Robert and Colton went down this slide together in different positions probably 50 times, maybe more.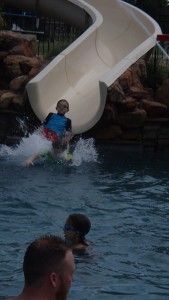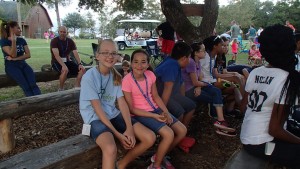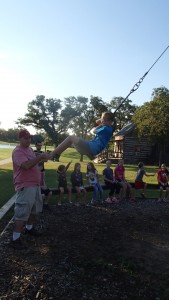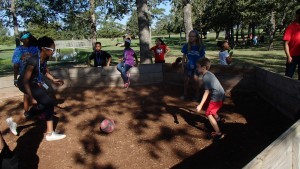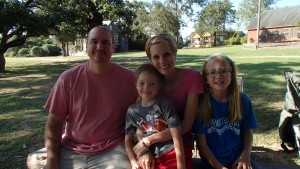 We had to pay a small fee when we registered if we wanted to do the zipline. I signed the kids up since they enjoyed their first zipline experience this summer. I put Robert's harness on him and thought it was a bit loose but figured they'd tighten it up at the top. Well, he got harnessed up, helmet on and then sat and waited about 15 minutes for his turn. He made his way to the top and it turned out the harness was too big and couldn't be cinched any further. He was so disappointed. He doesn't handle changes in plans nor disappointment well at all. Throw in being hot and tired and I was ready for some waterworks as he came down. He did really well though and held it together. We let him choose a little something from the camp store since he was being so good about it. He chose a bright green harmonica.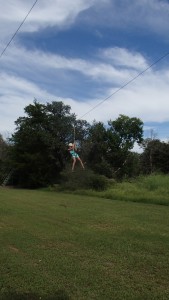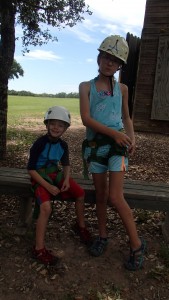 This was called the lagoon. This slide was huge! Both kids went down it without a moment's hesitation. There was also an inflatable rock climbing wall in the middle and a floating dock to spar on.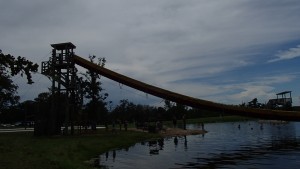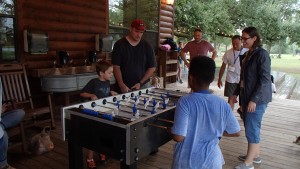 It started raining late Saturday morning and into the afternoon, so we had to be flexible during our planned activities. For a while it looked like our afternoon free time was going to be spent in our rooms, but thankfully the sun came out just in time and we had the entire afternoon to do things as a family. I voted for a nap but was outnumbered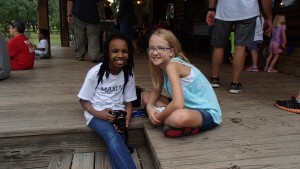 We had a couple of family activities and devotionals each day. We tried our hand at pickle ball and the kids played gaga ball. There was also horseback riding, frisbee golf, a baseball diamond and basketball court. We had smore's over the campfire last night and the kids watched The Peanuts Movie outside. There was something fun for everyone from preschoolers to teenagers. It was a lovely weekend all around. When I told Robert we would be leaving after our morning outdoor church service, he started crying. I think it's safe to say they're both looking forward to next year's retreat.