We took the camper to Wimberley last weekend to visit my cousin John and his wife Kelsey. John is the outdoor coordinator at Texas State and they live in the caretaker's house on the University's campground. You should already know this because we had our Griffis family reunion there this summer and I should have already blogged about that. Ahem. John has told us for several years now that we need to come camping out in the hill country with them, so we finally got around to setting up a date.
Since it was Labor Day and the campground was full, John had a couple of fires (figurative fires, not literal) to put out. We just parked ourselves in their driveway and hung out while the kids played together all weekend. John made us blueberry waffles two mornings and he and Chris did some dutch oven cooking. The Kelsey's ended up not having to do much food prep all weekend. It was alright

The four of us ventured off down the trail for a little hike. We came to this spot this summer, but the creek wasn't flowing then. They've gotten lots of rain since then, so it was flowing nicely and coming over these rocks and then underground. It was a little hard to get to this spot and I was helping Robert walk over a fallen tree to get to it. It had rained, so one leg kinda fell through a spot of packed dirt and he was a little messy. He fell through all the way to his bottom. He wasn't hurt, just a little shocked. I wish I had a picture

He wanted to clean off a little in the cold, clear water of the creek.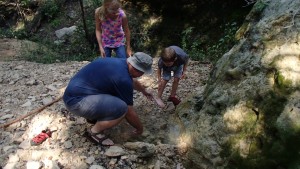 Clara didn't want to miss out on the fun of course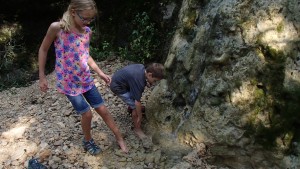 These pictures are at the creek bed right above the little grotto.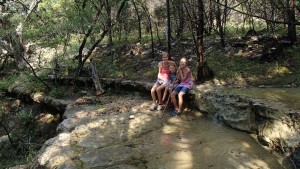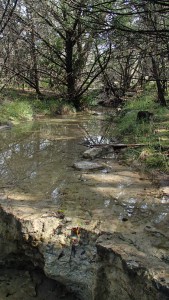 It's kinda hard to tell, but this is them sitting right on the edge of the rock where the water is falling over. It looked a bit more impressive in person 😉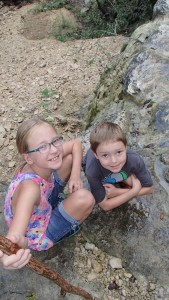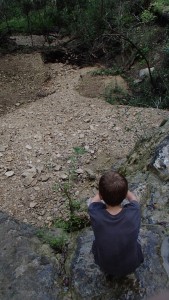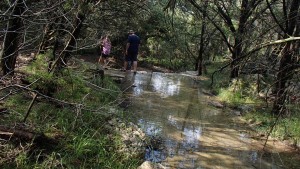 We also went down to their preferred swimming spot and I didn't take any pictures. We avoided the most popular spot for campers (where we were this summer) because John said it was packed. We walked downstream a ways and the kids enjoyed using their snorkels and masks. John found an endangered fish under a rock that he was able to point out to Clara. It took some time and effort to walk back as the current was really strong.
Here are a few pics of the shenanigans going on back at the house.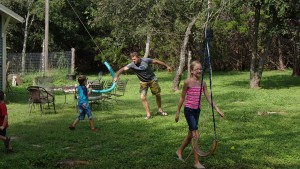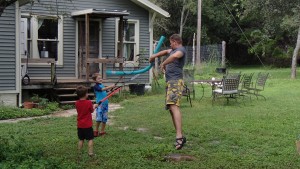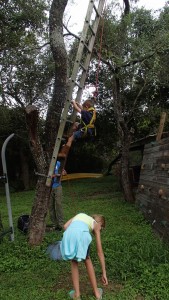 Most of our time was spent just sitting around sweating, some of us cooking, eating and watching the rain and kids play in the yard. We had lots of fun and are so thankful for John and Kelsey's hospitality. The kids are already looking forward to our next visit!