The kids' school grew so much in enrollment last year that every grade except 3rd added an extra teacher this year. It's so nice to have their class size go down a bit. Between those 5 new teachers, about 5 who switched jobs to non-classroom positions still at the school and about 7 who left the school, there are lots of new faces in the hallways. Both kids got "new to us" teachers. This is Ms. C.
Robert has had a rough start to his school year. He seemed to settle in a bit in week three. He has a hard time with change and misses his kindergarten teacher and friends. They've added a second recess to the day for K and 1st students, which has me so excited! I really hope it helps the kids stay more focused.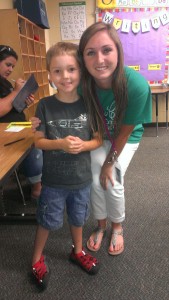 Clara's getting a little too old for pictures with her teachers, so I spared her the embarrassment

She has three this year and loves them all. Her homeroom/science/social studies teacher is a male and is very enthusiastic and energetic and was at our principal's old school several years ago. I think it's going to be a great year for Clara. She's decided not to continue doing orff ensemble and pep squad but I'm sure she'll want to replace them with something. She really wants to do dance class, but I'm not sure I want to pay for dance class. And I'm fairly certain she's going to want to be on student council. She was made for student leadership

I really liked what I heard at Clara's orientation last week. Science is about 50% hands on experiments along with keeping a science journal and they still have their trip to the science lab every other week. Math is still doing timed multiplication/division quizzes to keep those times tables fresh in their minds. Reading and writing will be going back to doing some spelling practice, cursive instruction, in class book clubs in small groups with aides reading three different books on varying reading levels, and they will be writing and performing puppet shows. It sounds very engaging. There seems to be a lot of new things they are trying and I love it!