We had lots of fun at my family reunion back in July. As I mentioned in our Labor Day weekend post, we were treated to an awesome weekend in Wimberley at John and Kelsey's place at U Camp. We stayed in the large bunkhouse that came equipped with a big kitchen and living/eating area and bathrooms. The house was surrounded by shade trees and we were just a short walk from an awesome swimming hole on the Blanco River.
John took us on a "short" hike up to a scenic overlook where we were able to see up river several miles. This first picture is where the little creek trickled down the rocks and underground that we hiked to on our Labor Day trip, but it was bone dry in July. We had reservations to see Jacob's Well which is nearby but got the call a couple of days before that it was too low for swimming, so we were kinda bummed about that.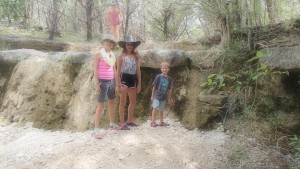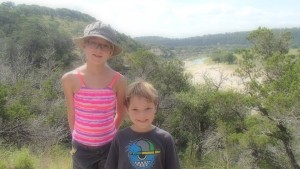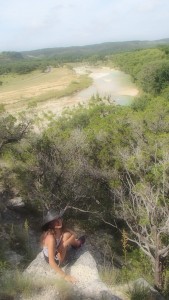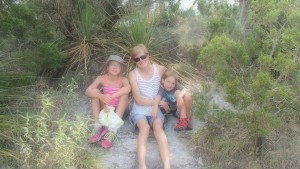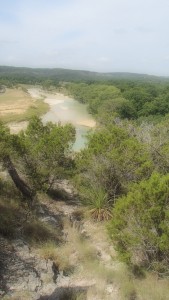 The swimming hole was perfect. This little spot is dubbed "John's bathtub" and the little ones spent hours doing cannonballs into it. This is my favorite picture from the trip. Maybe one one of my favorites ever of Robert.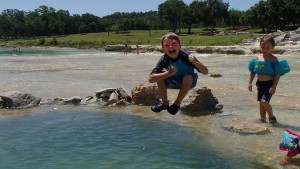 The land on the other side of the river here had steps going down to the water. The multi-million dollar home that stood there overlooking the river was swept away last spring during the terrible flood along with several other homes right there. John said thousands upon thousands of tons of debris were removed from the camp alone during the nine months it was closed.
The water was flowing swiftly in some areas. This next picture is Clara and my cousin Laura's daughter, Lilly who is about the same age. Several in the group enjoyed going down the little rapids. If you look closely, you can see some of the rocks look black in the area with the rapids. They were covered in tiny leeches. John said they're nothing to get worked up about. He'll get a few on him and then go sit in his bathtub and the little fish eat them off. Um, no thank you. Avoidance worked better for me as a way to keep leeches off of my body.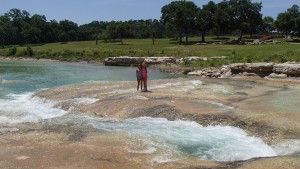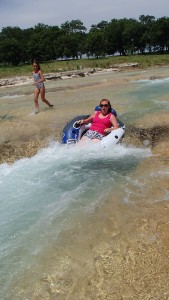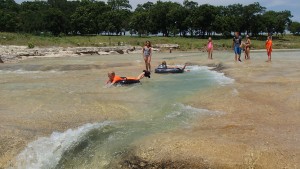 Robert hadn't been too keen on the leeches, so I was surprised when he said he wanted to go on the tube. When he got to the bottom and realized he had to walk over the rocks with the leeches to get back to the swimming hole, he LOST HIS EVER LOVING MIND!! I mean, he went insane screaming like someone was torturing him, frantically jumping up and down trying to keep from stepping on the rocks. I tried really hard not to and I tried not to let him see, but I could not stop laughing. Poor baby; I have never seen him that unhinged. Ahhh, good times.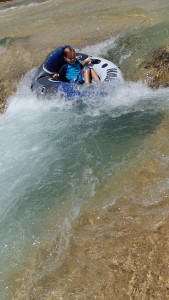 There was a drop off into this large area that was about 5 feet deep maybe. The kids took turns rowing around in the kayaks and snorkeling here. This spot was just a perfect mix for lounging and playing for all ages.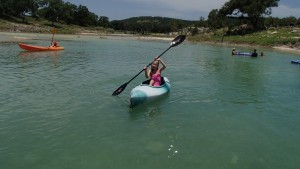 Griff and Taren found a little hideout under the rocks to share a snack together.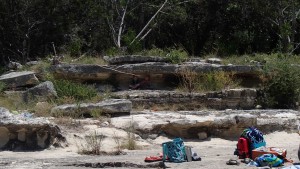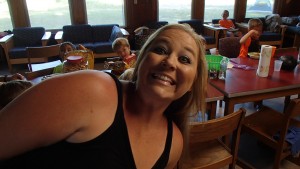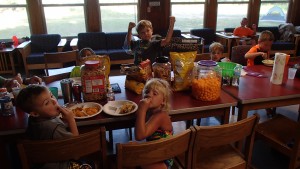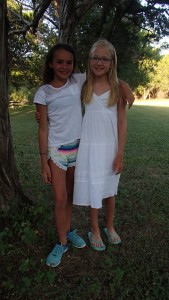 We attempted to take a few pictures after dinner Saturday night. Key word, attempted. Here's all the 2nd cousins.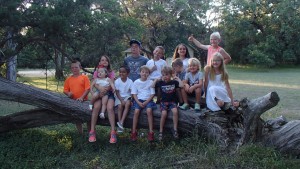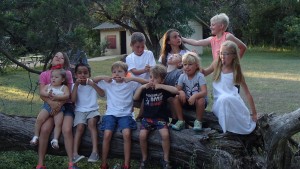 And here's Bia and PawPaw and their crew. Mason stepped in to try and get a smile out of Bryce but it didn't work.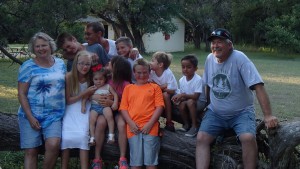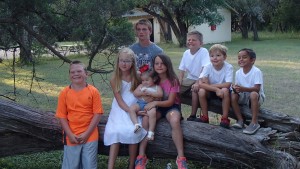 We invited Dan and Linda to join us on Saturday afternoon since they live just a short drive away. A lot of the kids had done the rockwall and zipline the night before but we had to shut it down when it got too dark. Clara went the first night, but I don't have pictures. She did great. Those long legs made scaling the rockwall a piece of cake. Robert was sooooo upset that he couldn't go. He had been waiting so patiently. There were several kids that really wanted to go, so John and Kelsey set it up again on Saturday night and we let Robert go first so that Dan and Linda could watch him do his first zipline. They needed to get on the road before it got too late. Here he is getting all ready to go.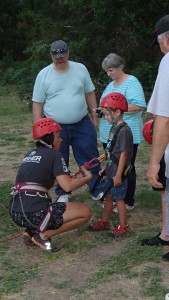 And off he goes! He got up that wall no problem and there was zero hesitation when it came time to step off on the zipline.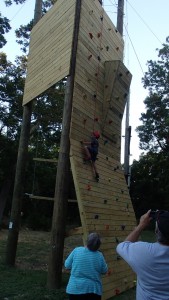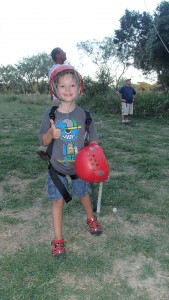 Chris was assisting at the end of the zipline with helping people off and down the ladder so he didn't see me get all harnessed up. He was really surprised when he saw me zip past his head

It was a lot of fun but I was surprised at how hard it is to step off that platform. My mom and Myrt Myrt wanted to go soooooo bad. My mom was in lots of pain and waiting for knee surgery and Myrt had just had knee surgery but even then we really had to work hard to convince them it wasn't such a good idea.
We all had loads of fun and hope to go back another time.