Moving right along…..
Chris was feeling better during the day. We had lunch at my parent's house and then he left me and Robert to do laundry and lounge while he and Clara headed out to the farm to get the camper set up. That evening, everyone met out at the farm to roast hot dogs and s'mores while kids played and adults chatted.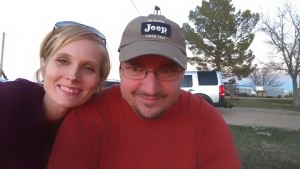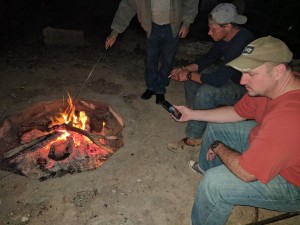 The next day was Christmas Eve. Tim and Linsey and the kids got to town and we all went to Myrt Myrt and Joe's house around lunchtime. We played a couple of games, like this one called Googly Eyes.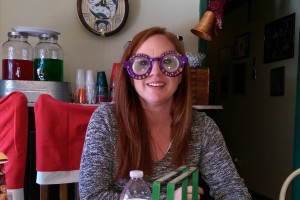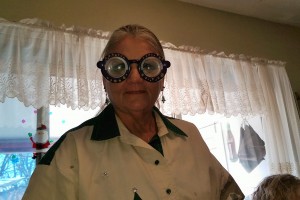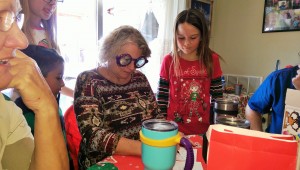 And the kids played Pie Face. I think it would be funnier to watch adults that don't want to actually get hit in the face with whip cream play. As it was, all the kids just kept turning the dial until they got hit in the face.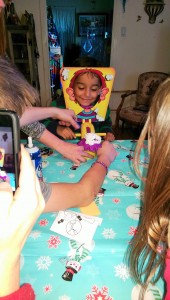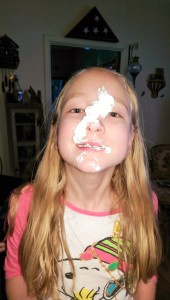 It was really nice outside, so the kids were in and out all day long jumping on the trampoline and the dads took them down the street to ride their bikes at the skate park. I knew I'd be a nervous wreck watching them, so I opted not to go. Clara had a pretty bad wreck only minutes after arriving.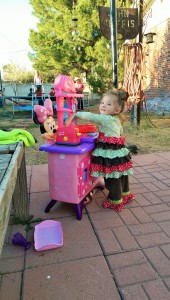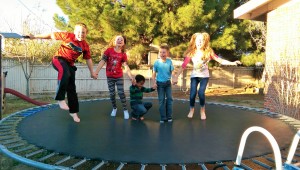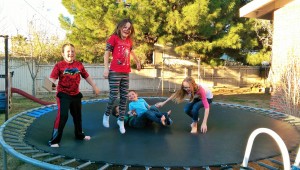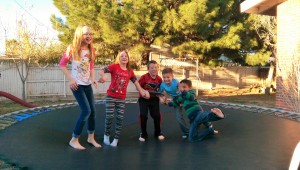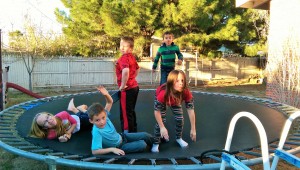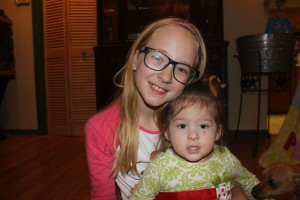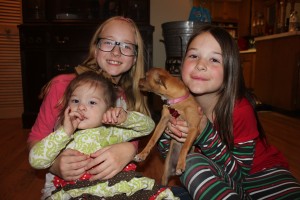 We had dinner then donned our festive hats and got down to business after it got dark.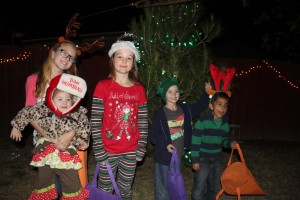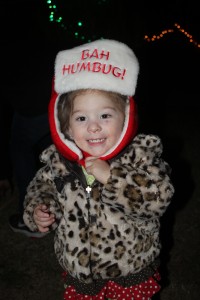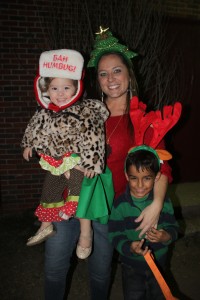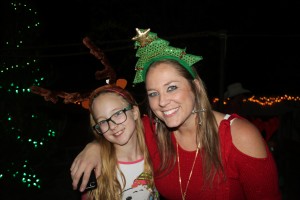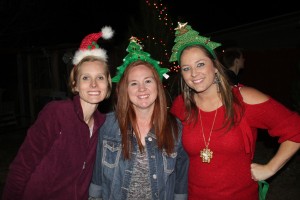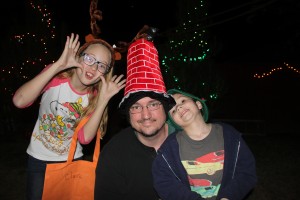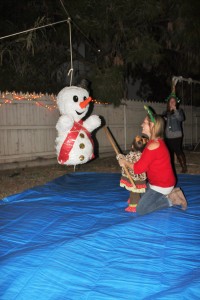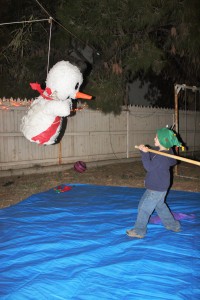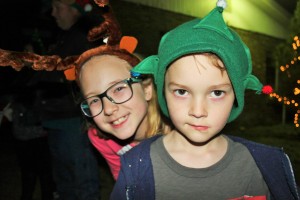 After the kids got done with it, the birthday girl got to take a whack at the snowman.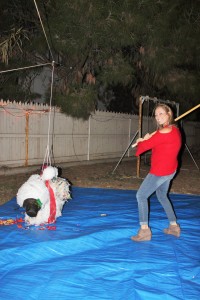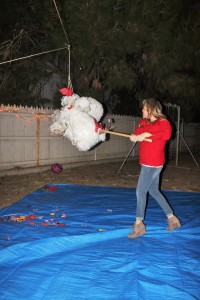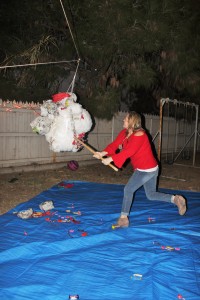 Here Cody is stuffing his jacket with candy alongside the kids.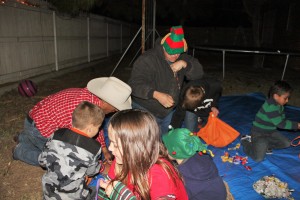 Wyatt and Clara posed with their kill.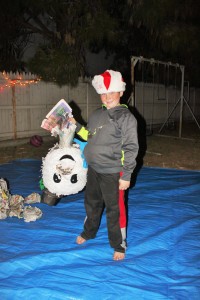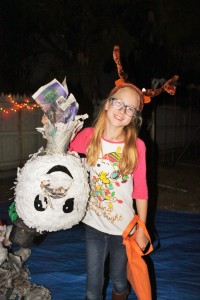 We headed out front to sing Christmas carols and Santa must've heard us, because he and Mrs. Claus  came around the corner with their bag of presents. The Grinch showed up though and took off with the bag. Thankfully Clara managed to get it back and we could get on with the festivities.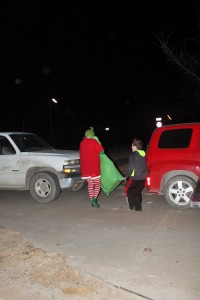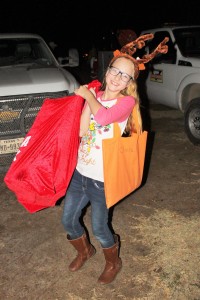 The Grinch was still lurking as Santa was emptying his sack.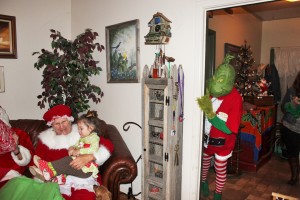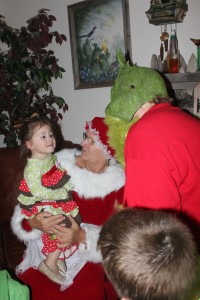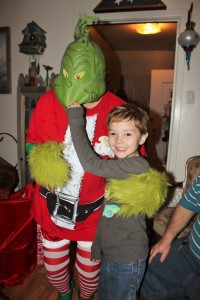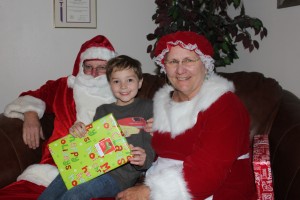 I looked down and this lovely sight greeted me. Ewww! Don't think he wore shoes at all that day.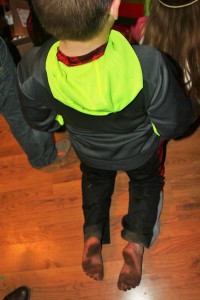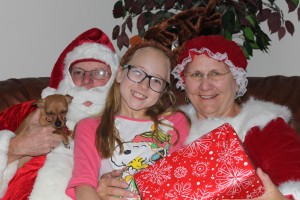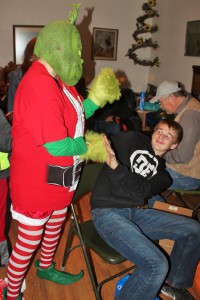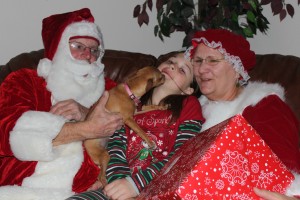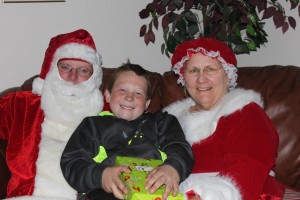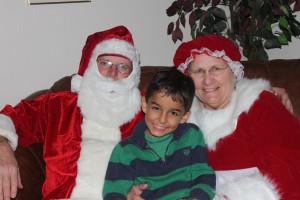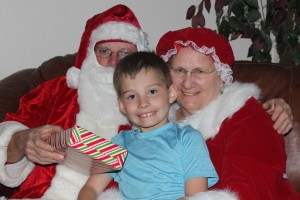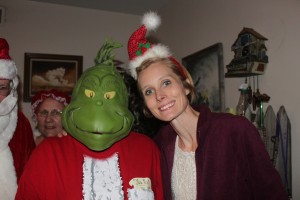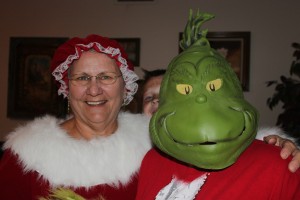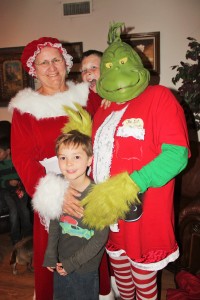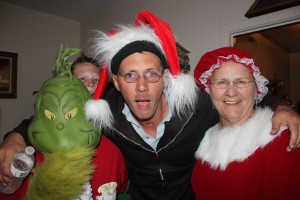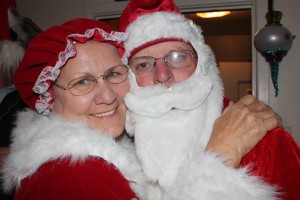 James, a friend from church, joined us for dinner and fun and Santa even had a gift or two especially for him. I've only met James a time or two, but I can honestly say I don't know if I've ever met anyone who is so filled with joy and love as this guy. He loooooves everybody and lets them know it. Just can't keep it in

I think he enjoyed himself.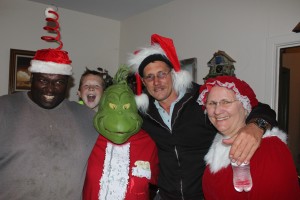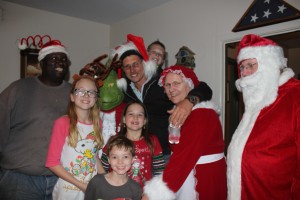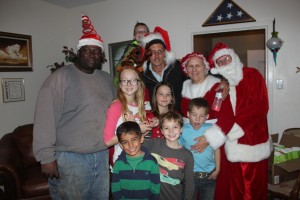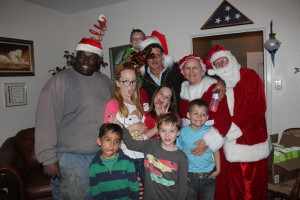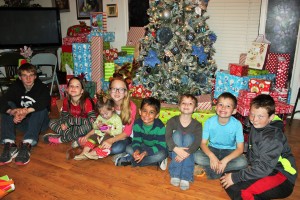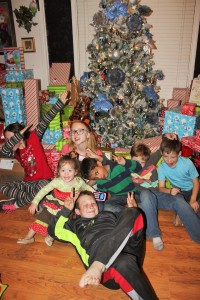 I was sitting by Clara and Linsey and Tenley were in front of me, so I pretty much only took pictures of them.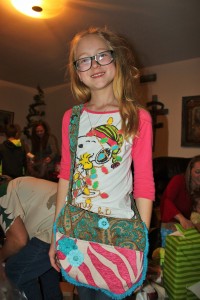 I had to capture Robert's excitement upon receiving this monstrosity of a toy that he really really wanted. It's a Power Ranger Super Charged Dinosaur Mega Something or other and he LOVES it.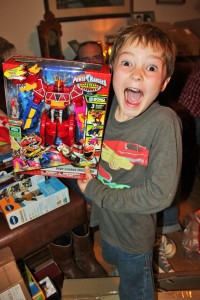 Tenley is really into horses, so she went nuts when she opened this gift. She was clawing at it trying to get it out of the package and then started kissing it. It was so sweet.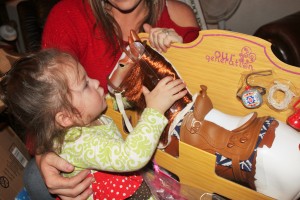 It was after 10:00 when we got back to the farm but I forced the kids to take a quick shower anyway. They were not happy with me. Everyone else had decided to open everything on Christmas Eve, but my kids were pretty disappointed to not have anything to open on Christmas morning, so we saved the gifts they made for each other and also their gift from us and then got up early and drove into town to see what Santa had brought.
Santa brought Robert three more Modarri cars and a car hauler and Clara got a Kindle, not to mention an overflowing amount of stocking stuffers.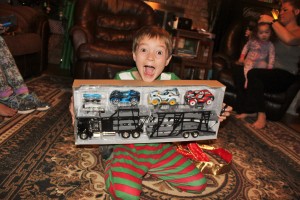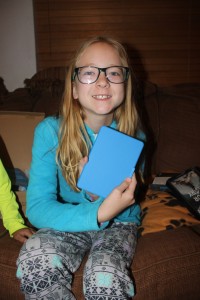 We got both kids rc cars. Chris really did a lot of the gift buying this year. He researched cars and went with real hobby shop ones that we can replace pieces on. He also helped choose both of their bikes for their birthdays.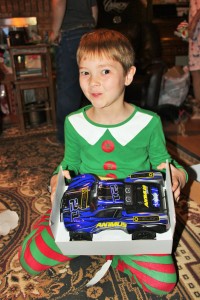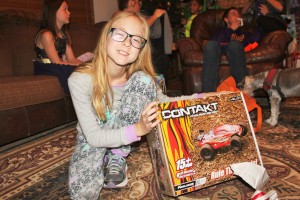 On top of that, on his own, he decided to help them make gifts for each other. He came up with the ideas, purchased what he needed and helped them make it. Clara got a string art owl to hang on her wall and Robert received a clock painted with all of the racing flags, with a picture of his favorite race car driver's car at the bottom. He's a good daddy.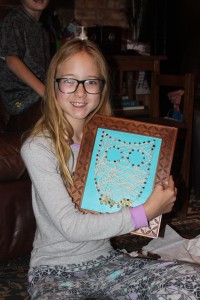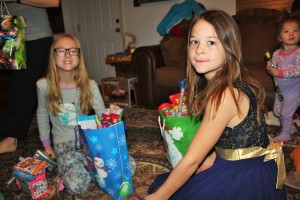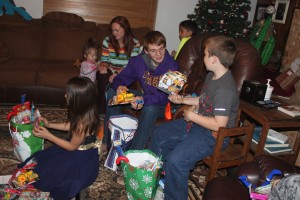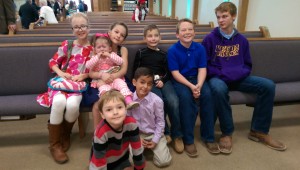 I had packed a bag to bring in to town with the kids and my shoes and some of our clothes so we could just jump in the car in our jammies and get ready for church at Bia and Pawpaws. Wouldn't you know it, I left the bag in the camper. So after breakfast, Chris made the drive back out to the farm to get my bag. We had church, lunch at Myrt's and then back out to the farm for rest and to figure out how on earth we would get all this stuff packed into the camper. We went back into town for dinner and to say our goodbyes because we were leaving early the next morning for the final stop on our Christmas tour.