We went to pick up the camper on Monday evening and got it set up in the driveway and cleaned up for our long term guests. They ended up living with us until right after Thanksgiving. We didn't get permission from our HOA to set up the camper; we just decided it was easier to ask for forgiveness than to ask for permission. I think most people were ok with temporary set ups like our own because the devastation was so widespread everyone knew someone who was affected. It was kind of a community-wide effort to get people back on their feet.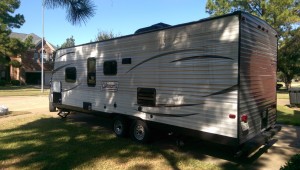 Mike and Wendy-Ann slept in the camper and their two girls, Trevy-Ann and Malana shared our guest bedroom. We had Clara and Robert shower and brush teeth in our bathroom so they could have the guest bathroom to themselves. The girls would get ready in the mornings and then go to the camper where they could have breakfast together just their family. Some meals we would eat together in our house and other times Wendy-Ann would cook for them in the camper. I think it really worked out well to give them space and privacy but at the same time, they could come inside if it got to feeling too cramped or to do laundry or just hang out.
If I remember correctly, they moved in that Friday or Saturday and the kids were to go back to school the following Monday after two weeks off. Chris was set to leave for Rome on Sunday. Wouldn't you know it, this view greeted us on Friday. We called the water company and waited. And waited. And waited. Finally our neighbor came over and said that because the leak was on our side of the sidewalk, the water company wouldn't do anything. He had a tool to turn it off at the street, so we turned off our water and Chris got to digging.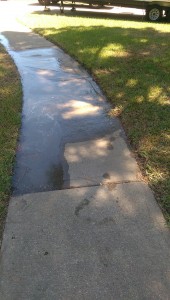 We got a plumber out Saturday night and it turns out because of the flooding, when the clay started drying out and hardening, it caused the pipes to break apart, so it was a quick fix thankfully.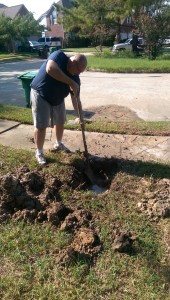 Robert would not pull this tooth. And you know I wasn't about to touch the thing. Yuck! So Wendy-Ann came to the rescue and pulled it for him! His adult tooth was pretty much halfway in already.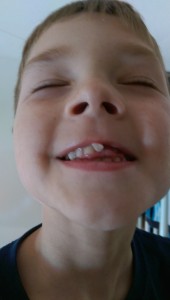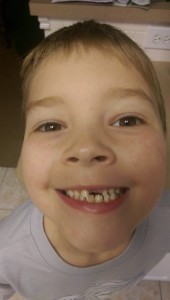 Our guests brought with them their pets, Max the parakeet and Brady, a chihuahua mix. Here Max and Robert are getting to know each other a little better.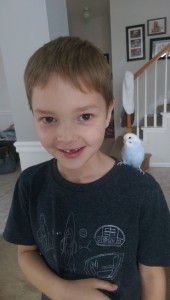 Chris and Vance were working in Rome for about two weeks. Near the end of their trip, Jenna and I flew together to meet them for the last couple of days of their work trip. We then spent a day or two in Rome and then got on a train together and went our separate ways. Chris and I to Venice and Vance and Jenna headed further north to visit friends. Dan and Linda came to watch the kids while we were gone. It was quite a lot to ask with the added chaos of having guests in the driveway, but they were good sports about it and didn't even complain (at least to our faces).

These next few pics are from their stay. They had dinner at Pappasito's with Dan's cousin and his wife who live in Katy one night. And they went to see The Lego Ninjago Movie. Robert was all about Ninjago those few months, so he couldn't wait to see the movie.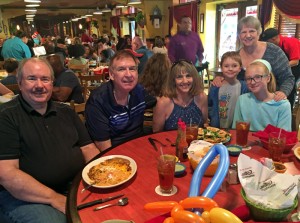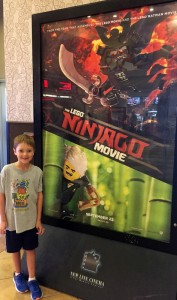 Clara and Malana were just learning their new instruments. They were a month into the school year and missed two weeks because of Harvey, so you can imagine what practice time sounded like. Like I said, they're really good sports. They left their quiet home to spend a week with a family of four they didn't know, a dog, a bird, two kids to get ready for school each day (including picture day), and two new musicians. Ha! I know they were counting down the hours 'til we'd be home.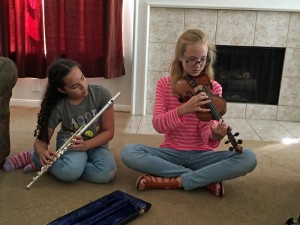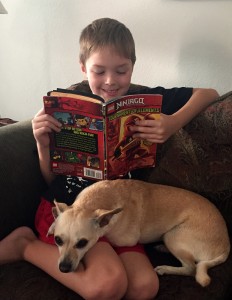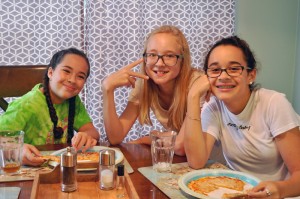 Here's Clara and Robert with the banner they made (along with Malana and Trevy-Ann) for our return. It was filled with questions about our trip and lots of words in Italian.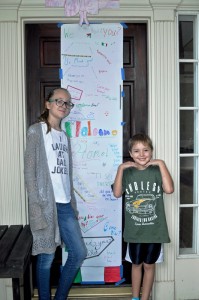 We were so grateful for Dan and Linda's willingness to take on the huge task of childcare and displaced guest care for us so that Chris and I could enjoy some long overdue time together. I think it's about time for another trip. Surely two years is enough time for them to have recovered. 😉